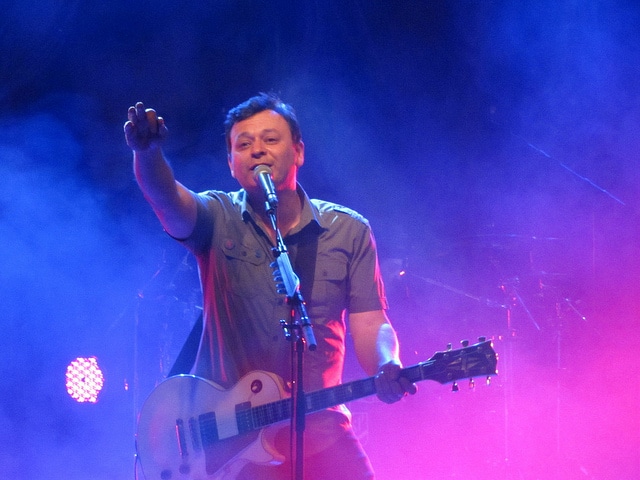 Manic Street Preachers have hinted that, they'd like to play live shows of their classic 1994 album The Holy Bible, to mark twenty years since its release.
Speaking this week to NME, Manic's singer James Dean Bradfield and bassist Nicky Wire, talked in depth about the writing and recording of The Holy Bible, as well as its lasting influence. They also commented on the disappearance of their former band member, guitarist Richey Edwards.
Wire talked about the possibility of playing the '94 LP at live shows, "If we were to do it – and it is a big if – there would be a kind of symmetry," he says. "I'd like to look at doing something like the three Astorias [referring to the band's previous 1994 gigs at the London venue]. I'd like to do an American tour of it because we never took it to America and Japan. Obviously Richey disappeared so it would be drawing a line under that as well."
The Holy Bible was the third studio album by the Welsh rockers. At the time the album was written, lyricist and guitarist Richey Edwards was struggling with severe depression. The album's lyrics are considered by many to reflect his deteriorating mental state. The Holy Bible was the last of the band's albums released before Edwards' disappearance on 1 February 1995.
The band discussed Edward's lyrics that often dealt with politics and human suffering. "I think they speak their own language, Richey's lyrics," said Wire. "On 'The Holy Bible', in terms of rock music, I think he invented a new lyrical language, which wasn't easy for James to put f**king music to!"
However, the Welsh group weren't a hundred percent confident that they could pull off live shows of The Holy Bible. The lads did express some niggling doubts over the porposed concerts, saying if they did play "and [they're] shit, that could be the end of us".
Speaking to BBC 6 earlier this year, Wire said: "We've wrestled with the idea of doing a gig playing the whole of (the album), but I'm not so sure. I'd like to do it at Glastonbury actually, I really would."