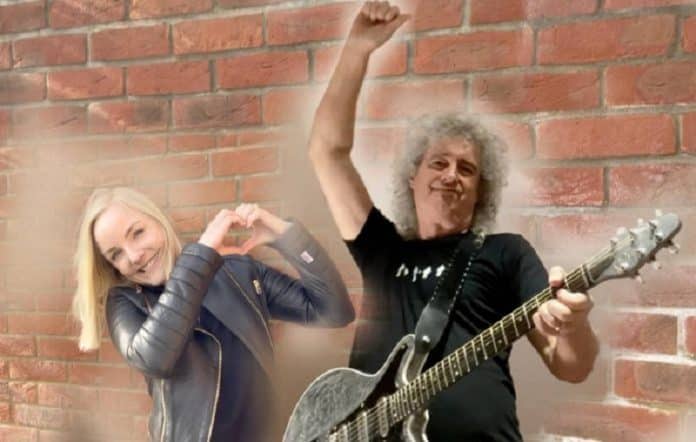 Brian May and regular collaborator, Kerry Ellis have teamed up again and released a new pandemic-inspired song.
Entitled, 'Panic Attack 2021 (It's Gonna Be Alright)', it is a remake of a song from their 2017 album, 'Golden Days'.
'It's Gonna Be Alright (The Panic Attack Song), which was a personal song for May, has been reworked and deals with anxiety from the pandemic, but also offers hope.
It's a positive, upbeat song that will resonate with many. May and Ellis said that rekindling some hope for people was the inspiration behind the project. You can check out the new song below.
Speaking about how the new song came to be, Brian May said:
"At the close of 2020 there was a feeling that perhaps saying goodbye to that year would bring relief from the pandemic and a new era of hope would now begin. Sadly, following a very muted and restricted celebration of Christmas, the New Year dawned with the realisation that the mankind's struggle was probably going to get worse before it got better.
May continued: "Kerry and I realised that 'The Panic Attack' song now potentially had a whole new meaning to literally millions of people around the world who felt a growing sense of panic. In the UK, there was definitely a feeling that we had all been cheated of our Happy New Year. So we wanted to mark the occasion in a completely real and transparent way."
Kerry Ellis said she was "beyond excited to kick off this year with a song full of hope."
"Putting 'Panic Attack 2021' together during a lockdown has had its challenges, but that has also been the beauty of it. Music is so powerful and it's amazing what you can still create with so many restrictions."
She added, "I hope this song and video gives people as much hope and joy as it did for me and Brian making it. We have all had quite a tough year but remember: 'It's gonna be all right!'"
Brian May and Kerry Ellis were able to create the song through E-mail updates and Zoom sessions. Ellis recorded her vocals with a microphone hooked up to Garage Band on her laptop at home in her kitchen.
The Queen guitarist worked on the riffs at home and the pair were able to meet up at his studio when restrictions were eased.
The song was produced by long-time Queen and Brian May producer, Justin Shirley Smith, who had recovered from Covid-19 just before he started work on the new song.
Earlier this month, Brian May said he regrets losing a cassette tape that Freddie Mercury made for him. You can read Radio Nova's report on it here.
Photo credit: Brian May and Kerry Ellis.