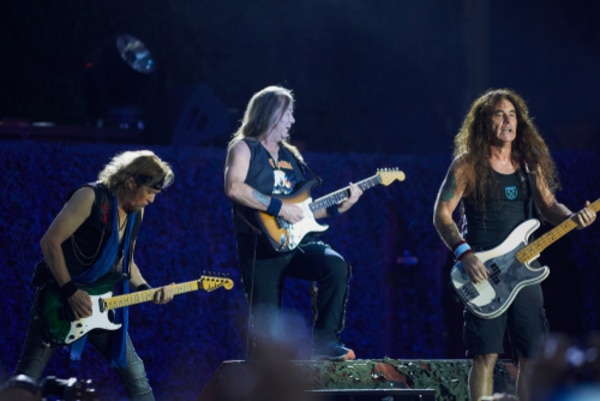 Metal legends Iron Maiden and comic book giants Marvel are teaming up for a new line of merchandise.
Launching this month is a special line of clothing and accessories that will see Marvel's famous lineup of superheroes and villains – including Wolverine, Venom, Thanos and Deadpool – featuring in recreations of classic Iron Maiden album covers. Marvel's characters will appear alongside Iron Maiden's iconic mascot Eddie.
"Eddie has long stood shoulder to shoulder with the greatest super-heroes and we're also pretty proud of the Worlds we created for his many incarnations – from battlefields to Egyptian tombs to frozen icescapes or futuristic cities," said Iron Maiden manager Rod Smallwood.
"Juxtaposing some of the most recognisable characters in pop art and comic book culture into planet Maiden has been an ambition of ours for years and working with Marvel and their unparalleled character-based IP is the perfect fit in this day and age," he continued. "To see such iconic characters alongside Eddie is something our fans have discussed for years and we think that the twist of placing Venom, Thanos, Thor or Deadpool in our Maiden worlds will excite fans of both cultures."
Marvel-lous Maiden!!

A range of amazing collaborations & juxtapositions celebrating the incredible art of Iron Maiden & Marvel.

Available now at https://t.co/8QWuDo0rSu#IronMaiden #Marvel pic.twitter.com/ssnw5UXXgk

— Iron Maiden (@IronMaiden) November 30, 2021
"Marvel is cool and aspirational, and has inspired the greatest artists, musicians and creators for more than 80 years," said Marvel Licensing SVP Paul Gitter. "This collaboration offers another exciting example of how the Marvel brand continues to push into lifestyle areas, with music being a top priority, and the collection allows fans to pay tribute to our iconic characters, while celebrating the legendary, Iron Maiden."
Eddie began life as a papier-maché model that would appear on stage with Iron Maiden in their early gigs, squirting blood out of its mouth. He was first drawn by artist Derek Riggs and has appeared on every one of Iron Maiden's album covers and the majority of the sleeves of their singles.
The Marvel collaboration follows Eddie's recent incarnation as a Funko Pop NFT. Funko are known for their distinctive Pop line of figurines based on pop culture icons, and they recently entered the world of NFTs. 44 different NFTs of Eddie are available for fans to purchase.
Eddie is the first musical NFT released by Funko.
"We are huge Iron Maiden fans here at Funko and couldn't be more excited to have our inaugural music Digital Pop! NFT be music icon Eddie," said Funko CEO Brian Mariotti. "Iron Maiden and Funko fans alike appreciate creative genius in music and pop culture. Now, they can celebrate both in digital form."
Get ready to rock! Iron Maiden will be Funko's next Digital Pop! NFT collection. Dropping 9/30 on WAX. #FunkoDigitalPop #Funko pic.twitter.com/mcsJjytBxn

— Funko (@OriginalFunko) September 22, 2021
Iron Maiden's new album Senjutsu became the band's highest charting album in the US, reaching number three on the Billboard 200.