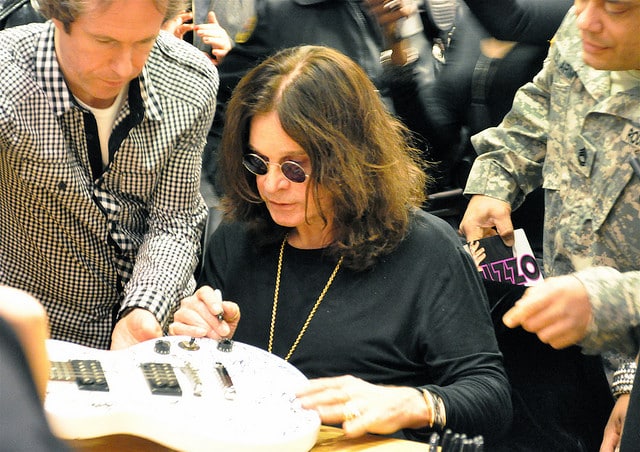 It appears some rock n' roll scars take a longtime to heal, guitarist Jack E Lee, who played with Ozzy Osbourne's band in the eighties, claims the frontman stole songwriting credits from him.
Jack E. stepped in for former guitarist Randy Rhoads, who died in a plane accident during a tour in 1982.
Lee joined Osbourne's band before 1983's album Bark At The Moon, during which the guitarist claims to have contributed to writing parts of the record.
The guitarist says that manager Sharon Osbourne told him to suck it up, stating that if he didn't just get in with it, his guitar sections would be cut and re-recorded by someone else.
Lee contests that he had an direct verbal agreement with Ozzy that he would be credited on the LP.
Speaking to Blabbermouth, he said: "Here's the truth. This is really gonna get me in more hot water, but whatever. I'm in hot water and I don't see a way out.
"I was told from the get-go, 'If you write part of the songs you'll get writing credit, you'll get publishing – that's part of your deal.' We recorded the album at Ridge Farm Studios and I kept asking because I'm getting really close to finishing all my stuff on the record. Once I laid down the final track they said, 'We have the contract for you.'
"In it, it said, 'Ozzy Osbourne wrote all the songs. You had nothing to do with any of the writing, you have no claim to publishing, and you cannot say so publicly.'
"I said to Sharon Osbourne, 'This isn't what you told me before. Why do you think I'm going to sign it?' She said, 'Because if you don't, we'll give you a plane ticket, you go back home and you stand in line and you sue us. In the meantime, we have all your tracks, we'll get another guitar player, he'll redo your tracks, and you'll have nothing.'"
Lee learned his lesson from the incident, before Osbourne's 1986 album The Ultimate Sin, he made sure to get any agreements in writing. "I refused to do anything until I had a contract in front of me," he said, "promising me writing credit and publishing."