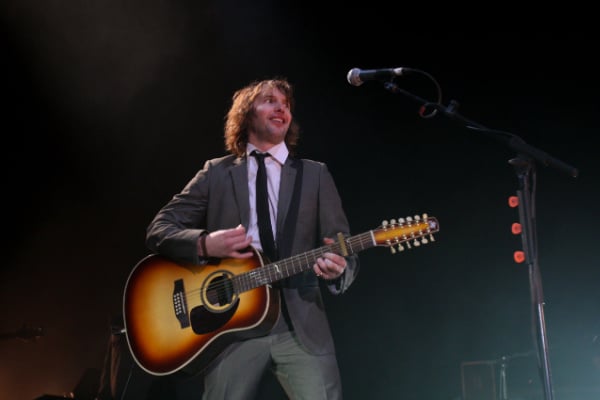 Would you like to listen to the article instead of reading it?
James Blunt has stated that his song 'Dark Thought' was inspired by a visit to the late Carrie Fisher's house.
In his recently released memoir, 'Loosely Based On A True Story', Blunt wrote at length about the role that the late Star Wars actress played in his formative years.
This role included putting Blunt up in her L.A compound pre-fame. It was there that he recorded his track 'Goodbye My Lover' in her bathroom.
"For the first month, I didn't see her. I'd get up and her mother, Debbie Reynolds, would shout: 'Hey Charlie – you wanna drink?' and I'd say: 'No, I'm James, thanks very much", Blunt recalled.
"most honest song is normally the easiest to write"
Speaking to NME, James Blunt pinpointed the moment that he returned to the house, following Fisher's death ins 2016. Fisher passed away aged 60.
"It must be about seven years since she died, I'm not entirely sure, but it's taken me all of that time to write a song for her", Blunt said.
"As a songwriter, the most honest song is normally the easiest to write because it just flows out of you. But I've been overthinking this song for so many years because she's just such an incredible human being".
The singer continued, "And so what I did with the song is I just described the moment I went back looking for her after her death".
"I went back to her house on a whim, drove up to her gate, and put my hand on it just to feel a little bit of her there. And I wrote the song about that moment".
Blunt Was "deeply moved"
Elsewhere, James Blunt also revealed that visiting this house was a hugely emotive experience.
"Ironically, as I did that and shed a tear, an open-top van full of tourists pulled up outside the house", stated Blunt.
"And the tour guide said: 'On your left, you'll see the late, great Carrie Fisher's house. And as you can see, some fans are still deeply moved by her passing.' And that was me".
'Dark Thought' features on James Blunt's seventh studio, 'Who We Used To Be'.
Last February, James Blunt spoke about another track, 'You're Beautiful'. He revealed that the track carries a more sinister meaning than most people think.
The song spent 5 weeks at number one in the charts in 2005. More on this from Nova here.