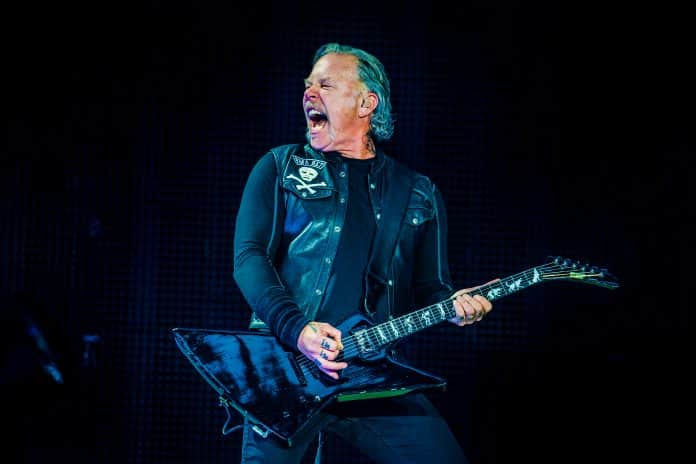 In a brand new interview for So What! The Metallica fan club magazine, frontman James Hetfield has opened up about life in the Covid-19 world, their ground-breaking S&M 2 performances, and their return to live concerts with Metallica's 'Pandemica' concert shot in August 2020.
For nearly 40 years, Hetfield has been the frontman of Metallica. The pandemic has given him opportunities that he has never had before. Hetfield claims "to soak up life on life's terms, to plug into my community here in Colorado. That's definitely one thing that has been difficult for me to have [in the past] because of coming and going every few weeks, not really being able to plug into any commitments or say, "Hey, let's do this once a week," or get together and barbecue".
Hetfield has spent his time during lock down to go hunting, fishing, welding, and having BBQs with friends and family. This is in stark comparison to band mate, Lars Ulrich. "And…our weekly Zoom call with the band, Lars talking about being in his home in San Francisco and he's, you know, not leaving. He's getting things delivered, and how he hasn't been in a grocery store in four or five months" said Hetfield.
Despite the lock down, Metallica have been busy this summer. They released a new album entitled 'S &M 2' the follow up to their first Symphony album. The band played two shows with San Francisco Symphony in September 2019.
"We were less fearful, I would say, as I think before it was such a new world for us, we didn't want to kinda get in the way. This time we really wanted to get in the way and make some different kinda history."
Metallica appeared on the Howard Stern show and played a live concert. The concert was shown at drive-in theatres across North America, called 'Pandemica'. In order for these events to take place, the band needed to take every precaution.
"double masks, face shields, rain slickers, hazmat suits, you know. Walk into a, whatever the little smoking things that they had, little fogger to fog your backpacks, and there was every precaution taken that was available."
This concert was a way of Metallica getting back to normal. The band played in a winery in California. It was their first performance in nearly a year, due to Hetfield's time spent in rehab and the pandemic.
While the show was a welcomed return for the band, it was certainly different, as Hetfield mentions "What am I gonna say between these songs? Am I talking to the drive-in theatre people? What am I doing? All right, let's just get real with it. It is what it is. We're not hiding the fact that there's no such thing as COVID, there's no live shows. Address that, talk about it…missed playing, how much we've missed playing together."
Looking ahead to the future, Hetfield is aiming to write lyrics in a more positive manner compared to the output from their last album, 'Hardwired to Self-Destruct'. Hetfield states, "I definitely need to write something a lot more happy and positive, so hopefully that will happen."
In two weeks' time, So What! Will release another special interview, this time with guitarist, Kirk Hammett.