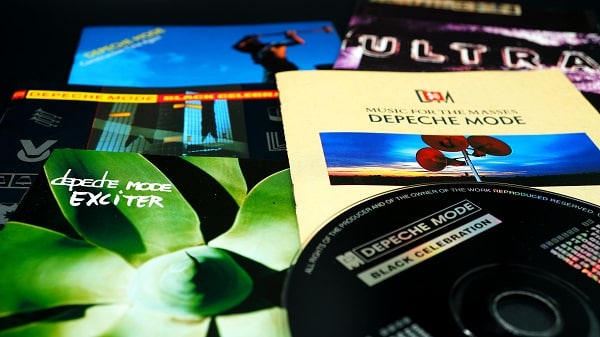 Songs of Faith and Devotion | 12" vinyl Singles will be released at the end of October. The collector's edition deluxe box set contains eight 12″ vinyl discs, showcasing Depeche Mode hits. Walking In My Shoes, Personal Jesus and I Feel You are just some of the singles. Amongst these hits are key B-sides, left-field remixes and live performances that will surely excite fans.
Sony Music Entertainment has made other vinyl collections and DVD box sets available to commemorate Depeche Mode's work. The first two box sets in the series–Speak & Spell | The Singles and A Broken Frame | The Singles–were released by Sony Music Entertainment in August of 2018. With Violator | The 12″ Singles released in July 2020 and Sony's plan to unveil similar deluxe collector's editions in the future, fans can get excited.
Songs of Faith and Devotion | 12" vinyl Singles contains original and special edition versions of each single. Each box set in the series contains the singles from each Depeche Mode album, on crystal clear 12″ vinyl, with audio mastered from the original tapes recorded at the legendary Abbey Road Studios.
The band are huge favorites of the 12″ vinyl and the quality of the sound it produces. Those who remember their 2017 gig at the 3 Arena and owners of previous collections will know how much this band is enthusiastic about high-fidelity sound reproduction and audiophiles will be eager to hear this latest box set.
The artwork of each of the box sets is inspired by street art iconography of their original releases. The vinyl sleeves themselves feature artwork of the original singles.
Here, in the list below, are just some of the songs on the jam-packed album:
Songs of Faith and Devotion | The 12" Singles 
A I Feel You (Seven Inch Mix)
B One Caress
A Walking In My Shoes (Seven Inch Mix)
B My Joy (Seven Inch Mix)A Condemnation (Live)
B Enjoy The Silence (Live)
B Higher Love (Adrenaline Mix)
A In Your Room (Live)
A Policy of Truth (Live)
B Never Let Me Down Again (Live)
The 12″ Singles Series will continue over the coming years, with plans to release box sets from each of the band's albums in similar collector's edition packaging.
Songs of Faith and Devotion | 12" vinyl Singles is due for release on October 30th.