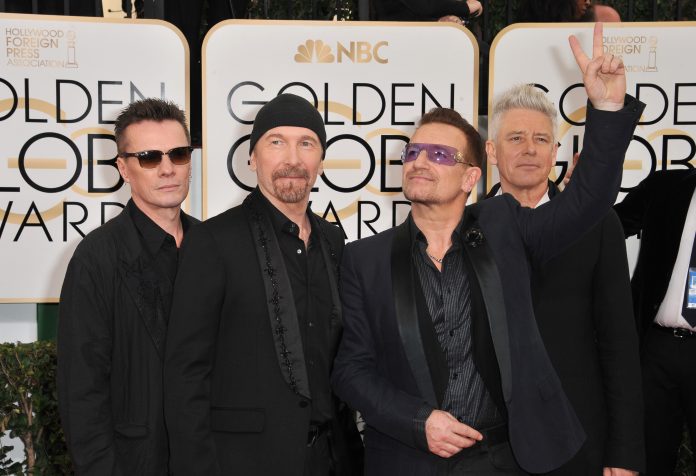 U2's new radio channel on Sirius XM launched in July. The first monthly episode called 'U2 extracts' was released last night. The show is hosted by Cait O'Riordan. The show consists of musicians, writers and fans discussing U2 and the world we are living in today.
'Close to the Edge' is a segment featured in the first episode. The Edge chats with Talking Head's frontman David Byrne about his new Broadway show called ' American Utopia.' The Edge also talks to Rage Against The Machine and Audioslave guitarist Tom Morello about the social upheaval in America and the country's relationship with racism.
Another element to this new show is guest DJs playing their favourite U2 songs and what U2 means to them. The debut episode has actor Matthew McConaughey play his favourite songs by the band and what they mean to him. McConaughey plays 'New Years Day' as he hopes for a brighter future.
American comedian, Phoebe Robinson also plays her favourite U2 song. Robinson plays 'Pride in the Name of Love' as it resonates with her due to her upbringing. The fact that the song is about Martin Luther King JR, meant the world to Robinson as a child. It still does today.
This summer for his 60th birthday, Bono wrote letters to artists who inspire him. In the first episode he reads his fan letter to Patti Smith and says, " you are my drug of choice…I refer to you constantly…oh yeah those lyrics, the power to dream". After the letter, Patti Smith's song ' People have the Power' is played. Further fan letters and songs by those artists are expected to feature in the coming episodes.
Comedian Chris Rock is interviewed by Bono. Rock tells Bono about how he has had some of his best shows in Ireland. The Black Lives Matter movement is also discussed, and Rock believes "'When I see the mix of people out on the street… this dedication… every day out there…  I'm more optimistic about white people in general… especially the young ones"
One part of the programming is a show called Elevation hosted by Irish broadcaster and writer John Kelly. This show features the best news from the worlds of science, medicine, faith, and the arts. The first interview is with civil rights attorney, Bryan Stevenson.
As an attorney based in Montgomery, Alabama, Stevenson has had long storied career, fighting for civil rights. When talking about societal issues in the world today, Stevenson says "Something that feels more like freedom and equality and justice… that is still waiting for us if we have the hope and conviction. But we can't do that without the struggle…"
Bands and artists are finding new ways to connect with their fans throughout the Covid-19 pandemic. This is U2's way to communicate with their fan base. The whole band are excited to by this project in lieu of playing concerts and recording new music together.
The radio channel is only available in North America; however, Extracts, a monthly episode will be released for fans all around the world. Be sure to check Radio Nova again for all the best bits from U2 Extracts.