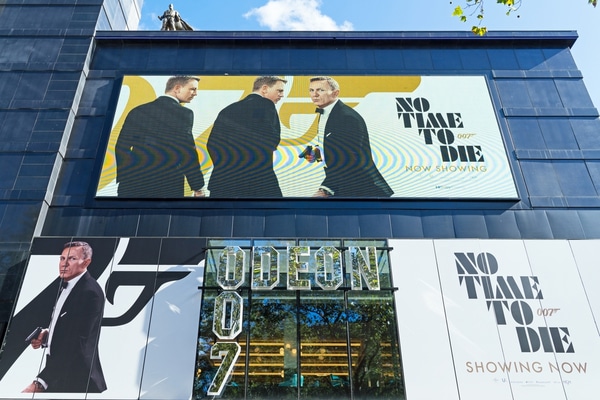 Drummer Jason Bonham has confirmed that he is the sticksman for the latest James Bond soundtrack No Time To Die.
This makes Jason Bonham the second Lez Zeppelin connection to James Bond, with Jimmy Page having worked on the soundtrack for Bond's Goldfinger in 1964.
Speaking on this soundtrack for Goldfinger, Jimmy Page told GQ Magazine.
"This was Goldfinger. She arrived with a friend, was very quiet, and then was asked to come out and sing. And it took her just one take. And at the end of the tape she collapsed on the floor. At the end of the song she just held this one note and she basically ran out of breath and collapsed".
He also added, "You know how dramatic she is usually, what with all the stuff she does with her hands, but this was even more dramatic – and I was in the front row of the musicians, so I really had a good view of all of this". 
Jason is of course the son of late Led Zeppelin sticksman John Bonham. Jason did also feature for Led Zeppelin, playing at their 40th anniversary concert in 1988 and their 2007 Led Zeppelin reunion at the Ahmet Ertegun Tribute gig at the O2.
Having hit the screens, producers for the latest Bond installment which will see Daniel Craig star as the 007 Agent for the last time, have said that this film scored higher in the box office then the previous two Bond films. More on that here.
Bonham "Truly honoured" to work on Bond Soundtrack
Taking to social media to confirm his connection to the latest Bond film, Jason Bonham had this to say.
"Jan 28th 2020 I flew to UK to be a part of this soundtrack I am truly honored to be listed as the drummer on this music score and soundtrack", he wrote.
Check out that post in full here.
Along with Led Zeppelin members, the latest Bond film also features musicians of the calibre of Johnny Marr and Hans Zimmer.
The pair worked on tracks for the film called "Matera" and "Shouldn't We Get To Know Each Other First". More on this here.