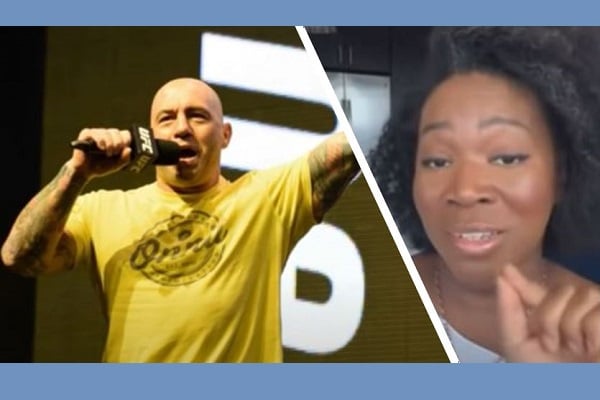 Popular podcaster, Joe Rogan has apologised for a 12-year spanning compilation video of racial slurs that has recently resurfaced online. His 'mea culpa' came after Grammy award-winning singer-songwriter, India.Arie reposted the compilation on Instagram, calling out the podcaster.
The singer-songwriter has also announced that she is removing her music from Spotify's streaming service. The platform is facing growing discontent from artists due to its stance on Joe Rogan's show, which reportedly pays more than $100 million to license.
Taking to social media, Joe Rogan – host of the Joe Rogan Experience, gave an apology for his us e of the N-word over the years. After seeing his words compiled together in one video, the comedian/podcaster admits it is the "most regretful and shameful thing that I've ever had to talk about publicly." Although, he did say that the clips had been "taken out of context."
During the six-minute apology on his Instagram account, Joe said, "It's not my word to use. I am well aware of that now, but for years I used it in that manner. I never used it to be racist because I'm not racist."
"I know that to most people, there's no context where a White person is ever allowed to say that, never mind publicly on a podcast, and I agree with that. Now, I haven't said it in years."
Addressing comments in a clip from his podcast 11 years ago, Joe admits talking about going to a movie theatre in a Black residence to see Planet of the Apes was "idiotic." Attempting to rectify his comments, he said "I was trying to make the story entertaining, and I said we got out and it was like we were in Africa. It's like we were in Planet of the Apes."
Unaware of the existing footage, the popular podcaster claims to have deleted episodes containing "out of context" comments. However, he concedes that someone out there could have saved the clips at any time and make the compilation. Arie's video explains to Joe that even if some of the conversations were taken out of context, "he shouldn't be uttering the word. Don't even say it under any context."
Joe, and the JRE podcast have been embroiled in controversial headlines of late due to its willingness to discuss taboo subjects. Their alleged spread of COVID-19 misinformation and openly speaking guests have irked some of the biggest names in music – most notably, Neil Young. Last Sunday, Spotify said it will soon add a warning before all podcasts that discuss COVID-19, directing listeners to factual, up-to-date information from scientists and public health experts.
The streaming giant also aims to improve on transparency of its publishing decisions by revealing rule used to protect users' safety. With more than double Apple Music's worldwide music stream subscriptions, Spotify is still unpopular with artists over how they receive payment.
Claiming Spotify to be built upon the back of the music streaming business, Arie also claims profits are used to pay Joe Rogan's lucrative deal. Appalled at the thoughts of generating money to pay for the podcaster, she is now seeking to remove her music from the platform. "Just take me off!"