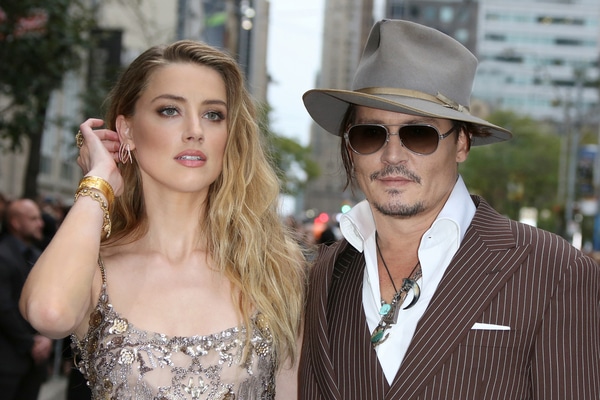 Concluding his testimony to court in his defamation against his ex wife, Johnny Depp has claimed that he was the victim of domestic violence.
He als claimed that he was "broken" by the time their marriage fell apart.
Depp is suing Ms Heard over and article which was submitted to the Washinton Post in 2018. This piece was written by Amber Heard and implied that Depp who they did not mention by name, had physically and sexually abused her during their marriage.
Depp is suing his ex wife for $50 million. Ms Heard is counter suing her ex husband for $100million.
"Tell the world Johnny"
Johnny Depp was once again in the witness box, with his testimony ending with lawyers playing audio from a recorded conversation that took place between him and Amber Heard in 2016.
Depp had claimed that he had agreed to meet Ms Heard in a hotel room in San Francisco in the hope that she might retract her allegation of abuse against him.
The actor can also be heard in the recording proposing that the former couple issue a joint statement that they loved each other. He also proposed that they say that the media had caused a storm around them.
Depp also claimed that this was an attempt to find a "peaceful settlement".
Instead of this, Amber Heard could be heard urging Depp to tell the world his story about being the victim of abuse.
"Tell the world, Johnny", Ms Heard said. "Tell them I, Johnny Depp – a man – I'm a victim too of domestic violence". 
"Yes I am", Johnny replies.
Another audio clip was played, where Depp can be heard threatening to cut himself with a knife.
"That's psychologically, emotionally where I was," he said. "At the end, I was broken … I thought the only answer is here, take my blood, that's all I've got left". 
"cost me everything"
Johnny Depp had earlier claimed that the allegations of abuse made against him had cost him "nothing less than everything". 
"When the allegations were rapidly circling the globe, telling people that I was a drunken cocaine-fuelled menace who beat women – suddenly in my 50s – it's over", he had told the court a few days earlier.
The actor was dropped from the 'Fantastic Beasts' franchise, while Disney informed him that he would no longer star as Captain Jack Sparrow in 'Pirates Of The Carribean'.
Depp also claimed that he would flee to another room away from his ex wife to escape her bouts of rage.
He also claimed that one incident led to him drinking "two or three shots of vodka" having been sober for many months. He then claimed that Ms Heard threw a bottle of vodka at him, causing damage to the middle finger of his right hand in the process.
Depp also alleged that Ms Heard would slap or push him during arguments.
In a separate case, Ms Heard denied throwing a vodka bottle at Depp. She also claimed that she threw things at him to escape when he was beating her.
Ms Heard also claimed that she feared that her former husband would push her sister down the stairs.
The case continues.