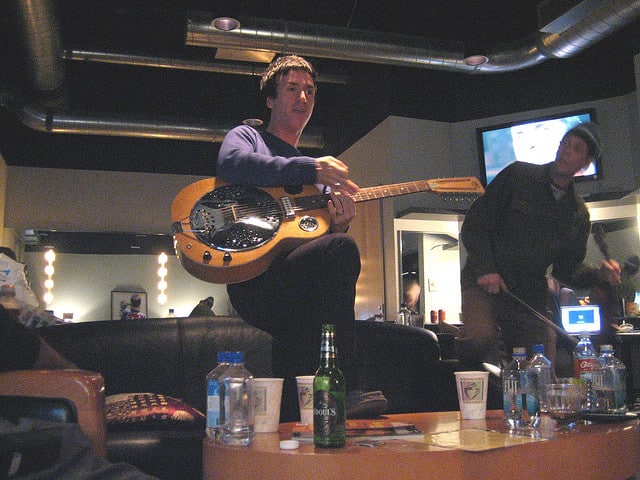 Johnny Marr has been forced to cancel all of his remaining North American tour dates due to a family illness.
Marr was promoting his second solo album Playland for the past month in the States. However, he has cancelled all his future appearances to return to the UK to spend time with his family.
The singer arrived in the US this day last month, playing his first concert in the nation's capital Washington D.C.
The last ten shows of the tour, which were all based on the west coast of the country have been axed. The gigs in Seattle, Eugene, Sacramento, San Francisco and Los Angeles will all be refunded.
Marr performed on Jimmy Fallon's Tonight Show while in the US, delighting fans when he chose to play a Smiths classic. He belted out a fantastic version of the Smiths' 'Stop Me If You Think You've Heard This One Before'.
The former Smiths man apologised to all of his American fans, posting the following message:
"I'm really disappointed to not be able to play the shows. The touring has been so enjoyable for me and the band and the audiences have been great everywhere. If it was about just me being unwell I would've found a way to continue as I did when I broke my hand earlier in the year, but to not be there for one of my family is not right. Thank you to everyone for the kind messages.
"See you soon. Johnny. x"
Marr said he hopes to reschedule all the concerts in the not to distant future.
A full list of the cancelled shows are below.
8th Neumos – Seattle, WA – CANCELLED
10th Wonder Ballroom – Portland, OR – CANCELLED
11th Wow Hall – Eugene, OR – CANCELLED
12th Ace of Spades – Sacramento, CA – CANCELLED
14th The Independent – San Francisco, CA – CANCELLED
15th The Independent – San Francisco, CA – CANCELLED
16th The Glasshouse – Pomona, CA – CANCELLED
18th Belly Up – Solana Beach, CA – CANCELLED
19th El Ray – Los Angeles, CA -CANCELLED
20th El Ray – Los Angeles, CA – CANCELLED