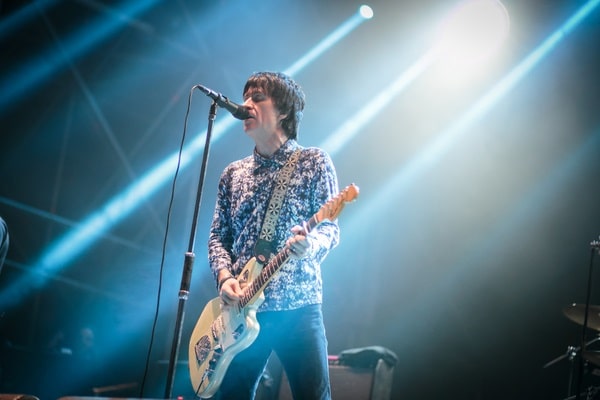 Would you like to listen to the article instead of reading it?
Johnny Marr has claimed that giving Noel Gallagher an expensive guitar nearly 30 years ago inspired him to give up drinking alcohol.
As the legend has it, Marr gifted the 1960 Gibson Les Paul guitar to Noel Gallagher, when the guitarist was a key member of Oasis.
The guitar which was previously owned by The Who's Pete Townshend, was used by Marr for the Smiths' third album 'The Queen Is Dead'.
However in August 1994, Gallagher broke the guitar, when he hit a stage invader, during an Oasis show at the Riverside in Newcastle.
Amazingly, Gallagher then asked Marr for a replacement guitar, and the former Smiths rocker duly obliged, giving him a 1978 Gibson Les Pauls Custom.
Marr Gave Gallagher His Guitar "just to be nice"
Speaking about this incident, Johnny Marr joked that this inspired him to stay alcohol free for the last 30 years.
"It's just to be nice", Marr said. "Me giving Noel those guitars has become such a big story over the years, but people don't realise that at the time he wasn't who he is now".
"He was just a kid from Burnage. I had no idea Oasis were going to go on to such big things. I did it because he was in need, because I was lucky and had lots of guitars, and because I wished someone had done it for me".
It was at this point that Marr dropped the comical punchline.
"I must confess it's why I quit drinking", he said. "I wasn't drunk, but the chances are I was very hungover when I agreed to that".
It was reported that Noel Gallagher was allegedly punched in the face by this pitch invader, which saw Oasis end the show early.
However, a security guard at the venue has undermined these claims, insisting that Gallagher's injuries were self-inflicted, after he hit himself in the face of Marr's guitar.
He also claimed that the show was ended after Gallagher had freaked out after breaking Marr's guitar.
Speaking of Oasis, former lead singer Liam Gallagher announced a 12 date tour, celebrating the 30th anniversary of the band's 1994 album 'Definitely Maybe'.
The tour takes place next year, which will also see Gallagher perform two shows at Dublin's 3Arena next June. More on this here.