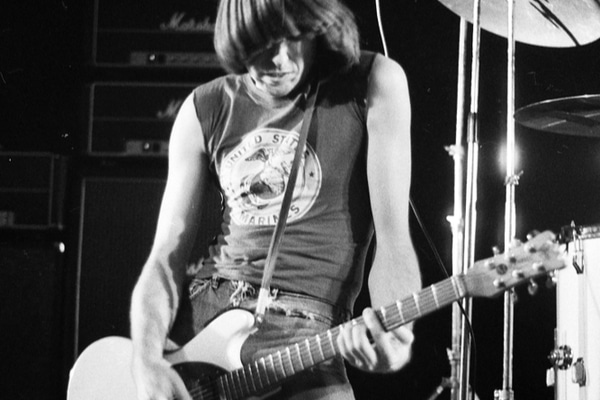 Ramones legend Johnny Ramone's main guitar is going up for auction. His "Number 1" was reportedly played at every Ramones gig from 1977 to 1996.
This guitar is also said to have been played at over 1,900 shows.
The auction started on August 24 and will finish on September 25 from Boston Massachusetts. It is part of the  The Ramones And Punk Collection Of Daniel Rey from RR Auction.
The guitar is a Mosrite Ventures II, including a single coil in the bridge and a Seymour Duncan Mini-humbucker in the neck. The white finish has also seen noticable wear following constant use over the years.
It is also signed on the back with the words, "Johnny Ramone, My Main Guitar, 1977-1996". 
Johnny sadly passed away in 2004 following a 5 year battle with prostate cancer. He was 55 years old.
Earlier this year, it was confirmed that actor Pete Davidson would star as Johnny's bandmate Joey in the Netflix biopic I Slept With Joey Ramone. More here.
Intense playing style of Johnny Ramone
When the guitar was purchased by Johnny in 1977, it was initiallty bought as a backup to his primary guitar, a blue Mosrite. The white Ventures II later became his main guitar when his primary instrument was stolen from his storage unit.
The white Ventures became Ramone's primary instruement until the band split up in 1996.
After the Ramones disbanded, the guitar was subsequently sold to producer Daniel Ray. Ray is now auctioning off a number of Ramone's memorabilia.
The listing has also said that the guitar has "an incredible amount of wear to the bass side of the higher register frets", due to the intense playing style of Ramone. 
The neck has also been refretted with a larger gauge wire, but was never refinished. The back of the neck also shows "extreme" wear between the first and fifth frets.
Check out full details of the auction here.
After 14 bids for the guitar, the bid for the instruement now stands ast $80,526. The next bid will then bring that sum up to $88,579. More on this here.