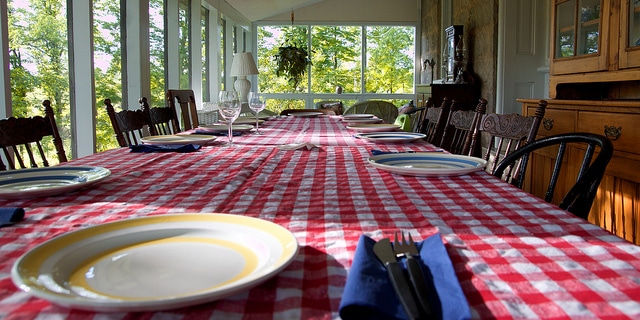 Do you like Bruce Springsteen? Do you like lasagna? If you answered yes to both of those questions, you should have bid for meal at The Boss's house.
Bruce isn't just having any old punter over to his gaff for dinner, you have to pay for the pleasure of his company.
The singer has auctioned off a lasagna dinner at his home for charity, it's in aid of US veterans. To sit down and dine with the iconic rocker cost one lucky punter a fair few bob.
Springsteen wasn't only offering to fill up your belly, you get to spend the whole day with frontman, receive an hour long guitar lesson and a ride in his motorcycle sidecar, all for €240,000.
The auction took place at the Stand Up For Heroes event in New York last night. All the money made from the show going towards members of the military service and their families when they return home.
He not only offered dinner and guitar lessons, Bruce played a the event, performing a five-song set at the Madison Square Garden that included 'Growin' Up', "Dancing in the Dark' and 'Born in the USA'. The bill for the night also included comedians John Oliver, Jon Stewart, Louis CK and Jim Gaffigan.
Watch footage of Bruce performing at Stand Up For Heroes below.
The Boss will also be releasing a new deluxe box set later this month on November 17th. The collection spans eleven years and includes remastered versions of his first seven studio albums, five of which have been remastered on CD for the first time.