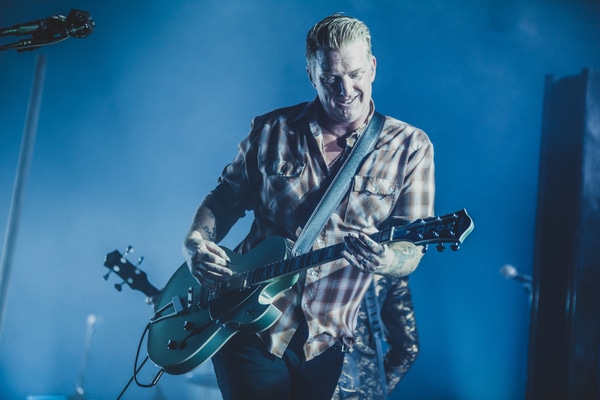 A judge has turned down a request from Josh Homme's children to impose a restraining order against the singer.
It had been reported that Homme's children filed for domestic abuse restraining orders against him, through their mother Brody Dalle.
Dalle is also the lead singer of The Distillers.
Allegations against Josh Homme
One of the children, 10 year old Orrin claimed his father Josh has physically abused him and his brother 5 year old Wolf. Orrin also claimed that on one occasion, his father Josh grabbed his genitals.
Orrin also claimed in legal documents that Homme has also physically abused him by flicking his ears, hitting his head, throwing things at him and verbally taunting him. He also claimed that his father had even driven whilst drunk with him and Wolf in the car.
The documents also alleged that Josh Homme even threatened to murder Dalle's partner.
Wolf has also made similar claims, saying that he is afraid to visit his own father.
Back in 2019, Dalle also took out a restraining order against Josh Homme after their divorce. She claimed that Homme had turned up at her house and head butted her.
Homme had also taken out a protection order against Dalle. He claimed that she would turn up at events that he was attending to trigger a violation of the order against him.
Back in 2017, Homme was forced to apologise for leaving a photographer in hospital following a gig in LA. More on that here. 
Request denied
However, a judge in Santa Monica has denied the request by Josh Homme's children to grant a restraining order against their father.
"Ms. Dalle has previously brought these claims to the police, DCFS and the presiding judge of the family law court, all of whom have declined to take any action based upon these spurious claims", Homme's attorney Susan Weisner told TMZ.
Weisner said in a further statement,"The allegations made by Ms. Dalle against Mr. Homme are categorically false. In order to protect the children, we will not be making any further statements".  
It has also emerged that Homme's lawyers have submitted legal paperwork over the Queen Of The Stone Age frontman's ex wife Dalle's custody of their children Orrin, Wolfe and Camille a week before the sons tried to obtain the restraining orders.
Homme had claimed that Dalle "refuses to return (the children) to me for my custodial time, has withheld them from school and is non-responsive as to their whereabouts".
That case will take place on September 13.