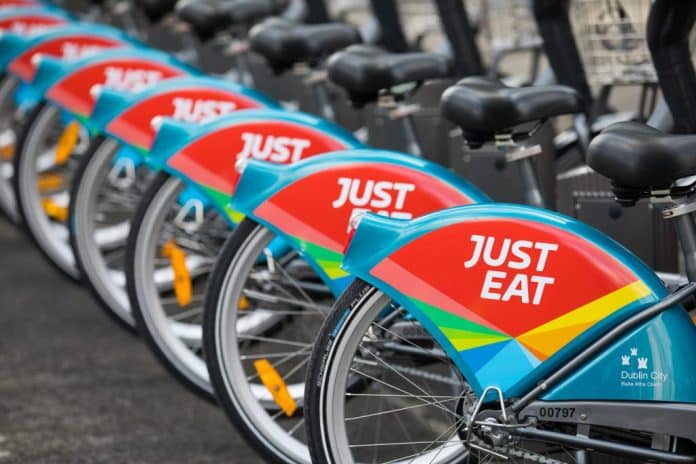 "We are very pleased to be able to deliver another expansion to the Just Eat dublinbikes network" – the words of Joanne Grant on the latest additions.
Dublin's Lord Mayor Mícheál Mac Donncha today officially opened Dublin city's newest Just Eat dublinbikes station in George's Lane in Smithfield. Joining him at the launch was Minister for Finance Paschal Donohoe.
The expansion of the scheme will see the number of Just Eat dublinbikes stations in the city rise from 101 to 116 and the number of bikes total 1,600.
As well as George's Lane, bikes will also be available from today, March 27th in the vicinity of the Grangegorman campus at three stations opening around Grangegorman Lower, such as St Brendan's Way (South), the Clock Tower (Central) and Ivy Avenue (North).
The Just Eat dublinbikes scheme is one of the most successful public bike share schemes in the world. Figures published in February 2018 show there are 67,890 long term members of the scheme and since launching in 2009 there have been 22,417,162 journeys. 96% of all journeys taken are completely free and the average journey time for users is just 14 minutes.
Speaking on the day of the opening of the new bike stations, Ardmhéara Mícheál Mc Donncha said:
"The Just Eat dublinbikes Scheme is one of the most successful public bike share schemes in the world and the expansion of the scheme into Grangegorman and the surrounding areas provides 15 new stations and 100 new Just Eat dublinbikes which will be available to use by the end of June 2018. I would like to congratulate everyone involved with this project, including Dublin City Council, JCDecaux Ireland, Just Eat and the National Transport Authority."