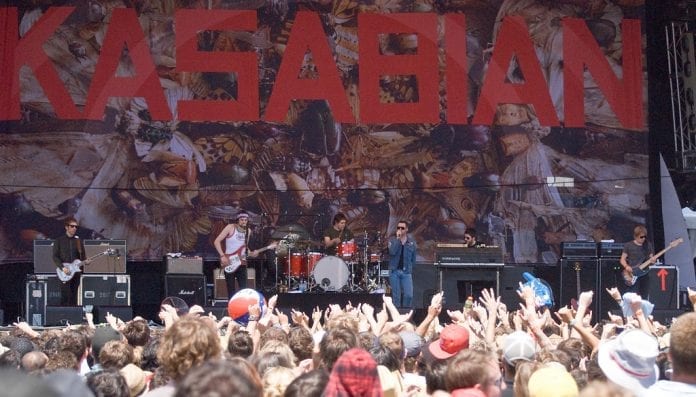 Kasabian revealed via Twitter today that they are set to play Dublin's Olympia's Theatre on Saturday, April 22nd – six days before their new album 'For Crying Out Loud' is released.
April 28th marks the release date for the Leicester crew's sixth studio album.
Serge Pizzorno, Kasabian's guitarist and vocalist, who wrote and produced the album said: "We wanted to make a very positive album full of hope with guitars to remind people that it's still relevant."
The album, which includes new songs Ill Ray (The King), You're In Love With A Psycho and TwentyFourSeven, is expected to be played during this tour – before they head to Reading and Leeds festivals in the summer.
It's been over two years since the release of 48:13. Produced by the band's leader, songwriter, guitarist and second vocalist Sergio Pizzorno, it entered at number one on the UK Albums Chart in its first week of release. Making it the band's fourth consecutive UK number one album.
Since forming in 1997, Kasabian's music has won them several awards and recognition in the media, including a Brit Award in 2010 for Best British Group, and their live performances have received praise, the most notable of which was their appearance as headliners at the 2014 Glastonbury Festival 2014.
Pizzorno opened up to NME about the evolution of their sound after 48:13, "Well, I fell in love with the guitar again. I was listening to ESG and Talking Heads and in that kind of world, then it just took on a life of its own. I just wanted to make a guitar record that was relevant and important. It's been a while since that happened. We always react against our previous work. I did massively experimental synth work on the last record so I just looked at my Rickenbacker in the corner of the studio and thought 'that's what I'm gonna do'. I just started smashing tunes out on that."
Tickets for the Leicester Rockers Olympia gig go on sale this Friday 24th. Priced at €48.90 including booking fee, they will be on sale from usual outlets at 9am.
Picture Credit: Steve Collis