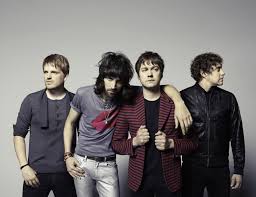 Kasabian have previewed their new album with a clip from their recording studio.
The video can be viewed via the link below, it shows guitarist and songwriter Serge Pizzorno recording vocals for a new, unnamed song. You can see Pizzorno sing the track, which has the lyrics: "Oh you pretty things, get on board this mothership, oh you've got to be, ready for action baby".
Earlier this year Kasabian told NME that their forthcoming new album is a "real 'fuck you'" to their critics.
Frontman Tom Meighan said: "The album is a real 'fuck you' to anyone who ever dares criticise or snarl at us, and say we can't do music like this. It's a real fucking 'up yours'. There are a lot of bands who try and do this kind of music but fail because they've got no songs."
It was previously confirmed that a track on the album contains lyrical reference to last year's horsemeat scandal. The track in question, 'Ezz-Ehh', contains the lyrics "Horsemeat in the burgers, people commit murders, everyone's on bugle, we're being watched by Google".
The band will release the as yet untitled album later this year (2014).