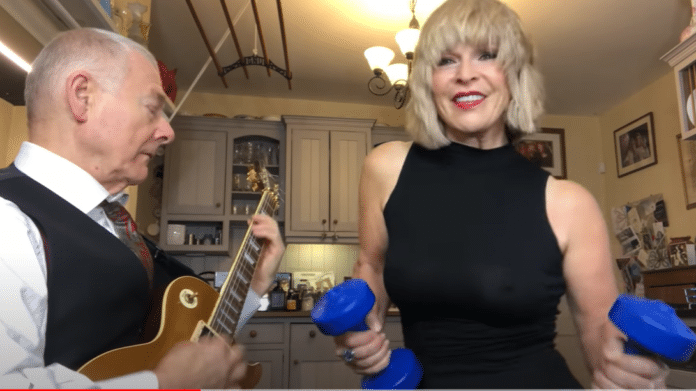 King Crimson star, Robert Fripp and his wife Toyah Wilcox have produced another cover of a track. This time they covered Guns N'Roses "Welcome To The Jungle" from the comfort of their own kitchen!
Two weeks ago, the couple rocked out to Metlallica's "Enter Sandman". It was shared on their Youtube channel. More here. 
They began this unique venture last year. They shared covers of tracks from artists such as David Bowie, Metallica and Nirvana.
Last week, they shared a unique cover for Billy Idol's "Rebel Yell". Toyah was dressed as a cheerleader and waving pom-poms around, as her husband Robert Fripp played the guitar.
Guns N'Roses "Welcome to the Jungle"
This week saw the couple take on the track "Welcome to the Jungle" by Guns N'Roses. Toyah Wilcox was on an excercise bike, holding two weights. Again, Robert Fripp was on the guitar!
Toyah captioned in the video, "Welcome To The Jungle and welcome to a new exercise lesson with your favourite pair". 
An inclusive, equitable and compassionate society" Fripp
Earlier this year, the couple also covered Led Zeppelin's track "Black Dog". In this video, they also issued a new year message, praying for a more positive 2021 and society.
Robert Fripp said, "For my 2021, I wish for an inclusive, equitable and compassionate society,". 
He also added, "And how I'm gonna get my wishes, by strapping on my guitar and rocking out like an uncontrollable fireball of rock fury".
Two former band members of King Crimson passed away in 2020. Singer and bassist, Gordon Haskell died last October. While earlier in the year, former drummer Bill Reiflin also passed away.
Speaking of Guns N'Roses, we brought you the news last month that guitarist, Slash is optimistic that 2021 will see the band releasing new material. They are expected to release their first album since 2008 at some stage this year. More here.