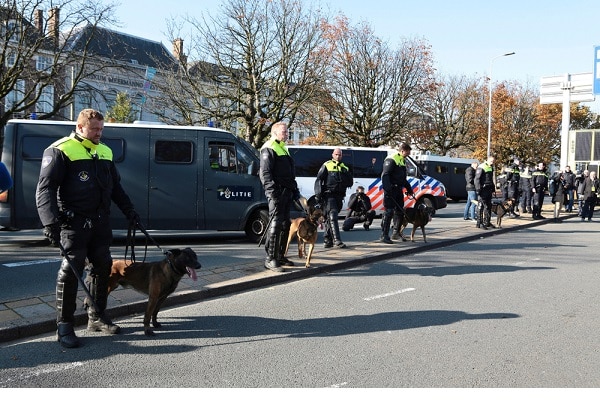 With a night-time curfew in place to prevent the spread of COVID-19, riots rampaged through the Netherlands in a wave of destruction. Huge mobs, describing themselves as anti-lockdown and anti-curfew protesters, took to the streets and looted stores, set fires and clashed with police in several cities, Dutch media reported.
Riot police used water cannons, dogs, and horses in Amsterdam and 10 other cities to disperse the violent mobs. The rioting followed the introduction of the first national curfew since World War Two, with the public banned from the streets from 9pm to 4.30am.
Video footage circulating online shows youths breaking into the coronavirus testing facility in Urk, before setting it ablaze. Local officials and police said the fire was "not only unacceptable, but also a slap in the face. Especially for the local health authority staff who do all they can at the test centre to help people from Urk. The curfew will be strictly enforced for the next week."
Health Minister Hugo de Jonge also condemned the blaze saying: "The fire in a screening centre in Urk goes beyond all limits."
Rioters in Enschede made an attempt to damage the hospital MST on Sunday evening. According to a spokesman, a mob attempted to smash the windows of the Emergency Department by pelting stones and setting off fireworks.
A group of about 60 men started a riot on Sunday evening in Tilburg after calls were made via social media to revolt. The atmosphere was apparently grim with destruction and fireworks.
A water cannon, dogs and mounted officers on horseback were drafted into central Amsterdam to disperse protests on Sunday afternoon. According to police, nearly 200 people, some of them throwing stones and fireworks, were detained.
Dutch Prime Minister Mark Rutte condemned the riots as "unacceptable". He said: "This has nothing to do with protesting, this is criminal violence and that's how we'll treat it."
The riots continued in Eindhoven with mobs torching cars, attacking police with rocks and fireworks, smashing windows of small businesses, and looting a supermarket at the city's railway station.
"My city is crying, and so am I," Eindhoven Mayor John Jorritsma told media on Sunday night. In a press conference, Jorritsma called the rioters "the scum of the earth" and added "I am afraid that if we continue down this path, we're on our way to civil war."
Justice Minister Ferd Grapperhaus condemned the violence by saying, this "has nothing to do with demonstrating against corona measures," Grapperhaus said in a statement. "This is simply criminal behavior; people who deliberately target police, riot police, journalists and other aid workers."
Around 240 arrests were made as violent protests swept the country. As the country cleared up on Monday, PM Rutte gave an angry response and rejected the idea that the rioters were genuine protesters.
"This is not on," Rutte said of the riots. "Anyone normal will look at these horrific scenes and ask – what came over these people? We're not taking these measures for fun. We are taking them because this pandemic is forcing us to restrict our freedoms. So, this has nothing at all to with protesting. It is criminal violence – and that is how we intend to deal with it."