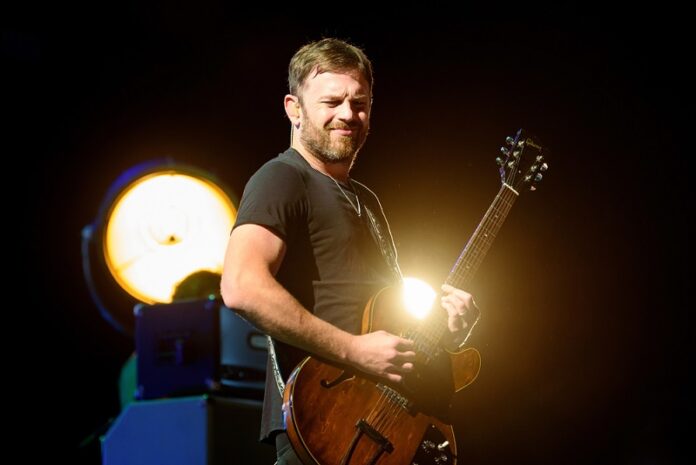 Kings of Leon have announced the details of their long-awaited album 'When You See Yourself'.
The new album is set for release on March 5 via RCA Records. It is available to pre-order here.
It was revealed in an email sent to fans that included the news, the track list and some of the lyrics that appear on the new record.
Kings of Leon frontman Caleb Followill and drummer Nathan spoke to The Sun about the new album.
"The decision to put it out now was our answer to the fact we aren't able to tour right now. Hopefully by summer we can make the shows we are booked to play" said Nathan.
"People can't see live shows right now, so the next best thing is new music for them to listen to. Putting it out was our way of saying 'thank you' to our fans for their patience."
Caleb discussed the lyrics on the new album and said "I try to write and convince myself that I'm writing about something else but a vein of my personal life flows through these songs."
He also opened up about how lead guitarist Matthew "nerded out and found some cool vintage equipment" to use on the new album.
"He was into organs and synthesisers as I was pulling teeth trying to get him to play more guitar! But when you hear that old equipment, it feels timeless and beautiful."
Caleb went on to add "A lot of the instruments on this album, you could've heard on Pink Floyd or Beatles albums. We really dug deep to find the proper equipment."
Kings of Leon released two new songs to celebrate the announcement. You can listen to 'The Bandit' and '100,000' people now.
From looking at the track list below it appears that the titles of the snippets of songs the band released are not the new names of songs. Originally they were thought to be titled 'Must Catch The Bandit', 'Feel The Way You Do', 'Spin It Like We Can' and 'Dancing In Your Head'.
The track list for 'When You See Yourself'
'When You See Yourself, Are You Far Away'
'The Bandit'
'100,000 People'
'Stormy Weather'
'A Wave'
'Golden Restless Age'
'Time In Disguise'
'Supermarket'
'Claire And Eddie'
'Echoing'
'Fairytale'