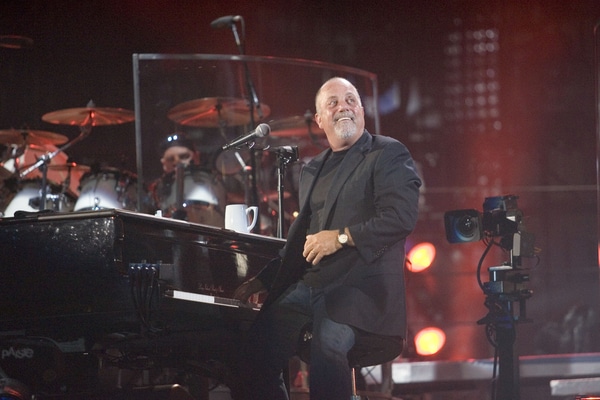 It's time! Billy Joel is in Ireland and he's about to kick off his ONLY Irish appearance of 2018 at the Aviva Stadium.
We're so excited to see the singer on Saturday, June 23rd as its his first time back in Ireland since 2013!
Last year alone, Billy Joel had record-breaking sell out shows in nine stadiums including unprecedented sell outs four years in a row at Wrigley Field in Chicago, Citizens Bank Park in Philadelphia and Fenway Park in Boston!
So, you guessed it – if you're headed along to the gig you're in for one hell of a show!
Having sold 150 million records over the past quarter century, scoring 33 consecutive top 40 hits, Billy Joel ranks as one of most popular recording artists and respected entertainers in history.
And he's about to show you what he's all about on Saturday – remember there's no support act for the gig and doors open at 6.30pm, while Joel will be on stage at 8pm sharp – if you're late you may be asked to wait until the next break before being seated.
If you're planning on heading along to the gig – please take public transport where possible. Keep in mind that backpacks and large bags will not be allowed; only small bags measuring no bigger than A4 will be permitted. Also people – no umbrellas.
Music wise – you're in for a massive treat! From what we can tell, it's an extensive setlist so prepare to be blown away – this is what we reckon will be blasted throughout the Aviva on Saturday!
 My Life
Pressure
The Entertainer
Your Song
Vienna
The Longest Time
The Lion Sleeps Tonight
Half A Mile Away
Zanzibar
New York State of Mind
Movin' Out
Don't Ask Me Why
Sunshine of Your Love
Ruby Tuesday
Honky Tonk Women
The House of the Rising Sun
A Salty Dog
Good Times Bad Times
Glad All Over
The Downeaster Alexa
Allentown
Fire
Sometimes A Fantasy
Bohemian Rhapsody
Sultans of Swing
She's Always A Woman

 The River of Dreams / A Hard Day's Night

A Day In The Life

Nessun Dorma

Scenes From An Italian Restaurant

Piano Man

We Didn't Start The Fire

Uptown Girl

 It's Still Rock And Roll To Me

You May Be Right