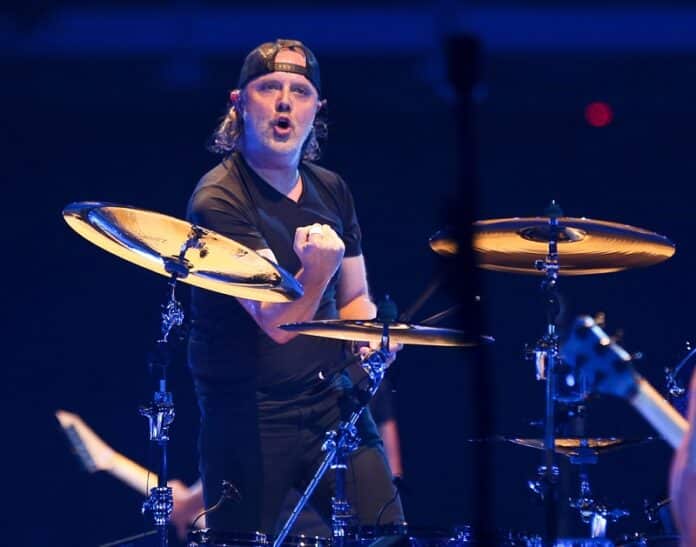 Lars Ulrich has revealed that 'Cold Sweat' by Thin Lizzy helped him throughout this tough year.
Speaking to Rolling Stone Magazine as part of their 2020 series, the Danish drummer was asked what song defines 2020 for him. He responded:
"Thin Lizzy's 'Cold Sweat.' In the first few months of lockdown, if we were up late at night having a beverage or in a social mood around a cast of characters that we're in isolation with here, Thin Lizzy was often the late-night soundtrack to that."
"And the song 'Cold Sweat' is definitely the one that's gotten the most spins in this household this year. Actually, even at dinner about two days ago, (my son) Layne pulls out an iPhone and we start to jam along to 'Cold Sweat'".
Thin Lizzy were a huge influence on Metallica. Frontmen Phil Lynott and James Hetfield became close friends before Phil sadly passed away. Hetfield is one the few people who owns an original Thin Lizzy backdrop sign used in their concerts. He also appears in the new Phil Lynott documentary, 'Songs For While I'm Away'.
While joking about his new hobby of 2020, Ulrich reiterated the point that Metallica are writing new music again. He previously told Phoebe Bridgers that the band were a month into some serious writing. You can read Radio Nova's report on it here.
"Getting Covid tested. I got the test at least 30, 40 times. We go into these (Covid) bubbles. Obviously, we did the drive-in (concert screening) last summer. We did a livestream a few weeks ago. We've done a couple of song writing escapades … I'm obviously being silly."
In the interview, Lars Ulrich admitted that the first Rage Against The Machine album was the perfect record for this year.
"The music, themes, lyrics, delivery — everything seems to be so spot-on and relevant to the daily craziness that shows up whenever you unlock your device. I think it's the perfect soundtrack to the 2020" said Ulrich.
He also mentioned that Matthew McConaughey's book, 'Greenlights' was his favourite book of the year and that he and his family have spent a lot of time watching movies this year, especially The Godfather trilogy.
Despite the world coming to a halt in 2020, Metallica had a busy year. They played a concert that was streamed to drive in theatres, they released their second live symphony album and also played a concert from their HQ which raised over a million dollars for charity.
Despite this, the thing Lars Ulrich is looking forward to the most next year is live concerts.
"Take a guess. Yes, you nailed it on the head, dear reader. Yes, it's sharing music in a live setting with an audience and, the fellow band members. We've shared music in an isolated setting and in a Zoom setting and a streaming setting, but I look forward to sharing in the live setting obviously, more than anything."
"What are we, 38, 39 years into this ride, and we haven't played a live show in 16 months? That is definitely the longest (gap) and I can't wait to get out there and play and get sweaty and get beat up and connect with the other three guys and connect with the audience again."