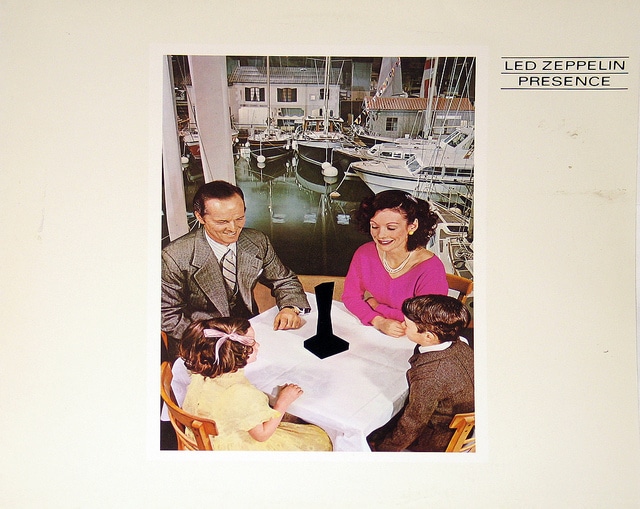 Presence is the seventh studio album by Led Zeppelin and was released on the 31st March 1976. It was the follow up to the band's critically acclaimed sixth studio album Physical Graffiti.
Created at a time of intense turmoil for Led Zeppelin– they scrapped a planned international tour in the wake of Robert Plant's car accident in Greece in August 1975 — Presence is a strange, misshapen beast of a record that pulls upon its own tension. With Plant somewhat on the sidelines — he recorded many of the vocals while in a wheelchair — Jimmy Page reasserted himself as the primary creative force in the band, helping steer Presence toward a guitar-heavy complexity, perched halfway between a return to roots and unfettered prog.
This dichotomy means it feels like Presence sprawls as wildly as Physical Graffiti even though it's half its length: the four epics tend to overshadow the trio of lean rockers that really do hark back to the Chess boogie and rockabilly that informed Zeppelin 's earliest work. Each of these three — 'Royal Orleans', 'Candy Store Rock', 'Hots on for Nowhere' — plays as snappily as the throwaways on the second half of Physical Graffiti, containing a sexy insouciance; the band almost seems to shrug off how catchy Page's riffs and how thick the grooves of John Bonham and John Paul Jones actually are.
No matter how much fun this triptych is, they're lost underneath the shadow of 'Achilles Last Stand', a ten-minute exercise in self-styled moody majesty and the turgid blues crawl of closer 'Tea for One'.  In between, there are two unalloyed masterpieces that channel all of the pain of the period into cinematic drama: a molten blues called 'Nobody's Fault But Min' and 'For Your Life',  as sharp, cinematic, and pained as Zeppelin ever were.
Added together, Presence winds up as something less than the sum of its parts but its imbalance also means that it's a record worth revisiting; it seems different upon each revisit and is always compelling.
Tracklist:
1. Achilles Last Stand
2. For Your Life
3. Royal Orleans
4. Nobody's Fault But Mine
5. Candy Store Rock
6. Hots on for Nowhere
7. Tea For One
Photo Credit: vinylmeister