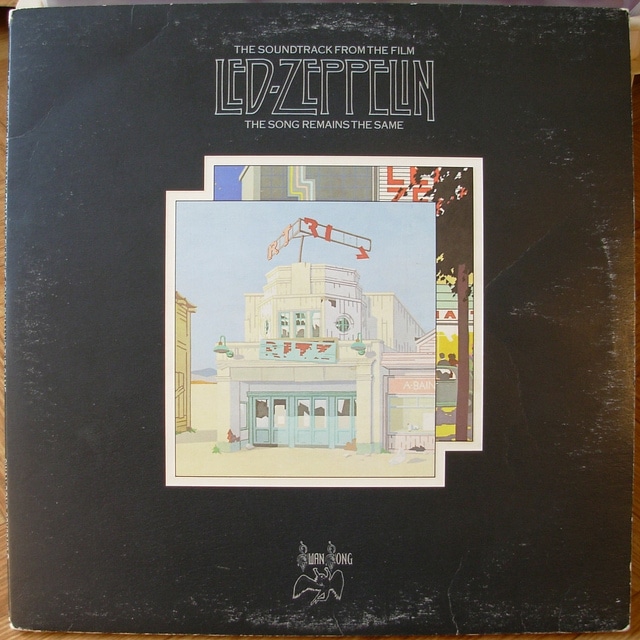 The Song Remains The Same is a live soundtrack album from Led Zeppelin and it was released on the 22nd of October, 1976. It was the soundtrack to the band's movie of the same name which captured the band over 3 nights at Madison Square Garden.
Commonly dismissed as a disappointment upon its initial release, the soundtrack to Led Zeppelin's concert movie The Song Remains the Same is one of those '70s records that has aged better than its reputation — it's the kind of thing that's more valuable as the band recedes into history than it was at the time, as it documents its time so thoroughly.
Of course, that time would be the mid-'70s, when the band was golden gods, selling out stadiums across America and indulging their wildest desires both on and off stage. It was the kind of excess that creates either myth or madness, and this 1976 live album — comprised of highlights from their three shows at Madison Square Garden during July 1973 — has its fair share of both, as Led Zeppelin sounds both magnificent and murky as they blow up songs from their first five albums to a ridiculously grand scale.
This is not the vigorous, vicious band documented on the subsequently released live BBC Sessions or the majestic might of the 2003 live album How the West Was Won and its accompanying eponymous DVD, where the band still sounded tight even when they stretched out for 20 minutes.
Here, on a show documented just about 18 months after those on How the West, the group is starting to let their status as stars go to their head ever so slightly. They no longer sound hungry; they sound settled, satisfied at their status as rock overlord, and since a huge part of Zeppelin's appeal is their sheer scale, hearing them at their most oversized on The Song Remains the Same is not without its charm.
This, more than any of their studio albums, captures both the grandiosity and entitlement that earned the band scorn among certain quarters of rock critics and punk rockers in the mid-'70s, which makes it a valuable historical document in an odd way, as the studio records are such magnificent constructions and the archival live albums so powerful.
At this stage, Zeppelin only seemed concerned with pleasing themselves, but they only did so because they could — others tried to mimic them, but nobody could get the sheer size of their sound, which was different yet equally monstrous on-stage as it was on record.
It wasn't as consistent on-stage as it was on record — a half-hour 'Dazed and Confused' may be the stuff of legend, but it's still a chore to get through — but the very fact that Led Zeppelin could take things so far is part of their mystique, and nowhere is that penchant of excess better heard than on The Song Remains the Same.
Tracklist:
1. Rock and Roll
2. Celebration Day
3. The Song Remains The Same
4. Rain Song
5. Dazed and Confused
6. No Quarter
7. Stairway To Heaven
8. Moby Dick
9. Whole Lotta Love
Photo Credit: traaf