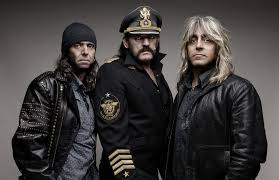 After postponing all their live shows following the ill health of Motorhead's Lemmy Kilmister, Motorhead have resumed their tour again and kicked it off at Club Nokia in Los Angeles on April 11th.
In reports from The Examiner, Lemmy was believed to be,
"Looking healthy, but maybe a little thinner".

Lemmy also jokingly said at the performance:
"Im back from the dead"


Motorhead began the show with "I Know How To Die" and proceeded to play a total of fifteen songs. There was also a special guest performance at the show. Slash joined the band in their encore songs at the end playing the classic "Ace Of Spades" and "Overkill"
On describing the show The Examiner reported:

"Playing an ear-bending and explosive, 'Killed by Death', the audience was in full-blown overdrive, moshing and keeping security on their toes. After the song, the lights went out and everyone wondered if they would come back for an encore. When the lights came up, Lemmy announced his special guest Slash. The crowd went wild as they played 'Ace of Spades". .
Motorhead's European tour had to be postponed back in 2013 due to Lemmy's ill health, issues which were believed to be quite serious, so much so Lemmy had to be implanted with a defibrillator due to an irregular heartbeat.
The frontman has has to change his rock and roll lifestyle and has swapped his drinking and smoking for the exercise bike instead. Rock and Roll!.
You can see the full setlist from the LA gig below.
01. I Know How to Die
02. Damage Case
03. Stay Clean
04. Metropolis
05. Over the Top
06. Guitar Solo
07. The Chase Is Better Than the Catch
08. Rock It
09. Lost Woman Blues
10. Dr. Rock / Drum Solo
11. Just 'Cos You Got the Power
12. Going to Brazil
13. Killed by Death
Encore
14. Ace of Spades (w/ Slash)
15. Overkill (w/ Slash)