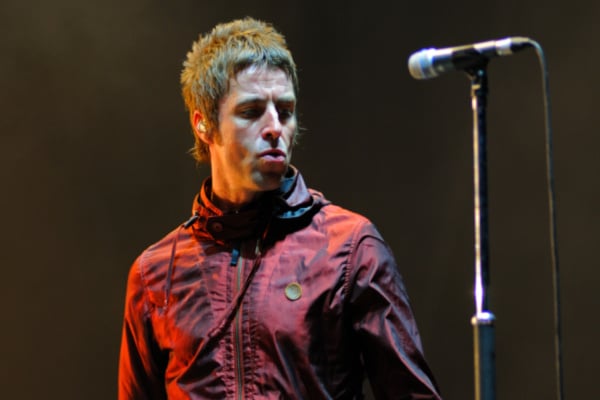 Ahead of his live performances at the iconic Knebworth venue, Liam Gallagher was unable to contain his excitement.
The former Oasis star will kick off the first of two live performances at the famous venue tonight (June 3), before performing live again the following day. Both shows will be supported by Kasabian.
Oasis played two record breaking gigs at the venue back in August 1996. It also emerged that 2% of the entire UK population had tried to buy tickets for these concerts, setting a record.
"can't wait"
"It's gonna be top. I can't wait, man", were the words of Liam Gallagher, who can hardly wait to start these concerts.
"It's just good to be back doing some gigs", he also added. "We've done our rehearsals and there's just a few finishing touches to do. But it's all there, man — I hope the weather stays nice". 
Liam Gallagher also insisted that he is fighting fit and in tip top shape ahead of these shows, despite concerns over a hip injury.
"I've had some injections, these steroid things, so now I'm f***ing buzzing", he stated.
"I'm like Wayne Sleep running around the house. Remember Louie Spence (the star of Pineapple Dance Studios)? Well, I'm like him as well". 
Gallagher Wants To "bring it to the people"
The last time that Liam Gallagher performed in front of the Knebworth crowd, he was alongside his brother Noel as part of that Oasis band.
When asked if he gets a little nostalgic about that fact, Liam issued the very blunt response of "no".
Since then, Oasis of course split up in 2009, and brother Liam and Noel have been at loggerheads.
"He's had his f***ing chance to get the band back together and he doesn't want to", Liam Gallagher said of his estranged brother. "So, I thought, if he doesn't want to do it, then I'm gonna have to do it and bring it to the people. And that's EXACTLY what I'm doing". 
Gallagher continued, "I could have Sylvester Stallone on stage and Esther Rantzen playing bass and it wouldn't matter. It's about me and the fans. The reason I'm doing Knebworth again is because of the fans — that's what the people want and I'm respecting them". 
"Oasis ain't getting back together anytime soon, so, we're doing it for them. Hopefully we can deliver a good gig and have a good weekend". 
Earlier this week, Liam Gallagher also blamed hackers for editing his website which falsely said that his gig at Manchester City's Ethiad Stadium was cancelled.