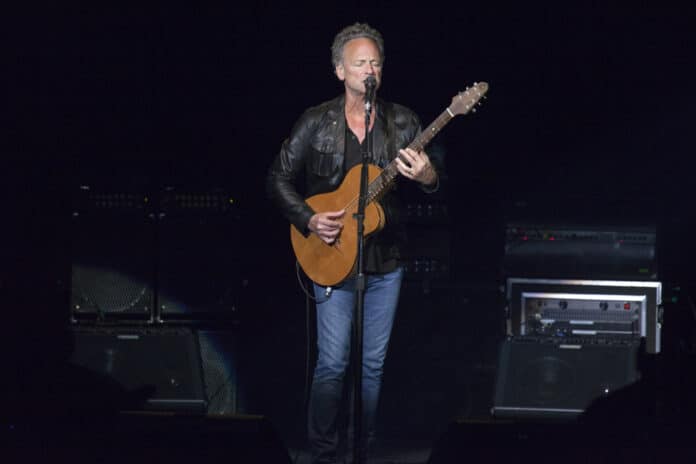 Lindsey Buckingham has announced he will perform an intimate livestream concert from his home in Los Angeles on December 5th.
The former Fleetwood Mac singer and guitarist said in a video posted on his twitter "I've been laying low just like everybody else, and I haven't seen any of you for a while. And so I thought I'd give a little intimate concert from my home studio. It's gonna be on December 5th and you can all watch it from the comfort of your own homes". 
Lindsey Buckingham is performing an intimate show, live from his home studio in Los Angeles, featuring hits from across his iconic catalog on December 5th.

Tickets will be on sale Friday, November 13 at 7am PT.

For more info visit https://t.co/CPqwGMF5L5 pic.twitter.com/WxN0a0EVby

— Lindsey Buckingham (@LBuckingham) November 12, 2020
The concert begins at half 5 P.S.T time on December 5th which means for Irish fans it will kick off at 1:30am on the 6th. Tickets are on sale now and can be purchased here.
Ticket holders will have 48 hours to watch the concert. Buckingham will be performing solo songs and hits from his Fleetwood Mac days. Purchasing a ticket grants limited access to exclusive merchandise and a VIP Q and A session.
Last month, Buckingham participated in the Fleetwood Mac TikTok Dreams challenge. He posted a video on Twitter in where Buckingham can be seen riding a horse, drinking cranberry juice to 'Dreams', the Fleetwood Mac song.
Ever since Nathan Apodaca, aka @420doggface208 on TikTok posted a clip of him skating and drinking cranberry juice to 'Dreams', the challenge went viral on the platform. Stevie Nicks joined in on the fun as well.
Made this with my girls this weekend pic.twitter.com/tCY8DpBoCL

— Lindsey Buckingham (@LBuckingham) October 21, 2020
In August, Buckingham, played a 4 song set on Zoom which was the first time he has sang in public since he suffered vocal chord damage from his open heart surgery.
In an interview with Rolling Stone Magazine, Buckingham said "This (pandemic) has been like a couple of years previous in which things occurred that I did not see coming. One was my split from Fleetwood Mac. Another one was having a bypass operation, which I did not expect to happen. You could say that this makes it a trifecta of events that were completely off the charts."
Buckingham left Fleetwood Mac after lead singer Nicks made it clear to the rest of the band that she could no longer work with Buckingham. In an email sent to the band's co-founder, Mick Fleetwood, Buckingham said "After 43 years and the finish line so clearly in sight, it's hard to escape the conclusion that for the five of us to splinter part would be the wrong thing. At the moment, the band's heart and soul has been diminished. But out centre, which has seen us through so much, is only laying dormant."