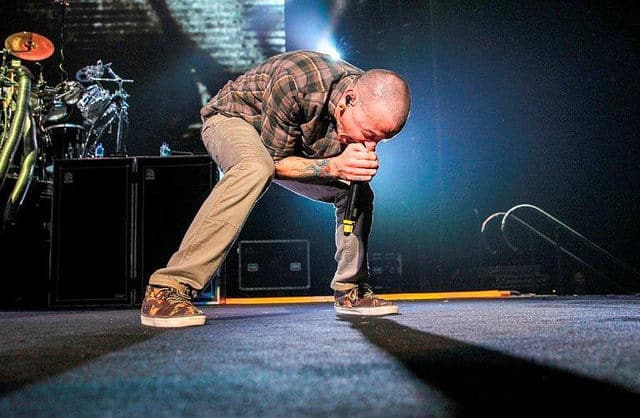 Linkin Park's Chester Bennington is having his very own 'Cash Me Outside' moment with fans that claim the band have sold out with their new music.
In a recent explosive interview with Kerrang!, Bennington told Loz Guest, about how he's willing to take on any of haters out there (Consider yourself warned guys).
Speaking on the topic he said "if you're gonna be the person who says like, 'They made a marketing decision to make this kind of record to make money,' you can f**king meet me outside and I will punch you in your f**king mouth because that is the wrong f**king answer,"
Chester Bennington rallied against the critics and insisted it actually took some serious balls for the band to put out such a radically different sound than most of their fans were used to hearing.
"For any band to take musical risks because you like what you're doing in spite of what you know some people will say they don't like, it doesn't matter if they like it or not – what matters is that you took the chance to do something that you felt was important to you and that's what being an artist is all about."
In fact, he argues that the people who dislike the music and call them sell outs are the ones who lack balls "Because guess what, calling us a sell out for that purpose is… selling out on your fucking excuse as to why you don't like it. You're a f**king pussy"
Well, he certainly doesn't mince his words.
Linkin Park made waves when they released their new music earlier this year, starting with their song "Heavy" featuring Kiiara. The song certainly has a different sound than the music they are most famous for, back in the Hybrid Theory days. They've continued to release more music from their new album One More Light which was released last Friday, all of which take on their new sound.
In fairness to Linkin Park, they have a long history of shaking things up, and were one of the first acts to fuse rock and hip hop together. Two genres that have traditionally opposing audiences.
Their new album is out now, if you dare. You can also listen to the interview here.
Photo Cred: Loud Online