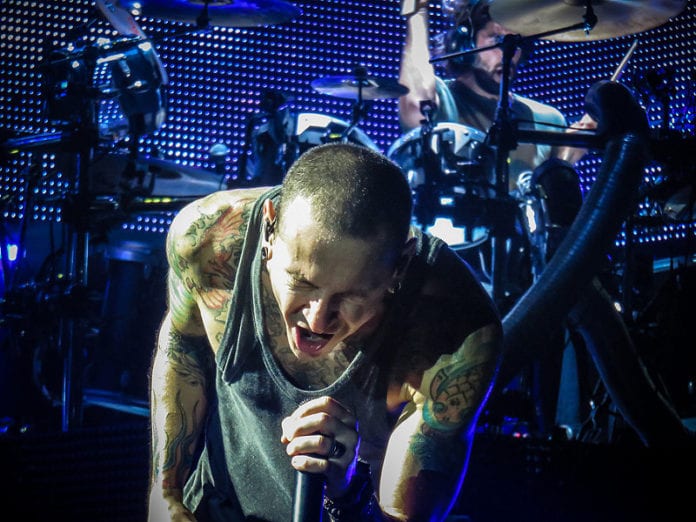 The tragic death of Linkin Park's Chester Bennington has caused the band to smash records in US Rock Charts. They've currently got 23 songs on the Billboard Hot Songs chart, breaking the previous record of 21 songs held by David Bowie after his death in 2016.
The highest spot on the chart is at number 2 and is taken by 'Numb' which was released as a single in 2002. The number 3 spot is occupied by 'In The End' from their breakthrough debut album 'Hybrid Theory'. The album is currently sitting in the Number 1 spot in the Hard Rock Albums chart. While the number 4 position is taken by 'Heavy', a track from the 'One More Light' album released this year. The 'One More Light' record is also sitting at the top of the Top Rock Albums chart.
Even more impressively, three of the Top 5 and seven of the Top 10 songs on the Hot Rock Songs chart are taken up by Linkin Park tracks. Many of the band's tracks are featured on the Billboard Hot 100 list among others.
The news of Chester Bennington's death by suicide on July 20th broke millions of hearts across the world. The Linkin Park front-man shocked his friends and family, his wife Talinda expressed her heartbreak recently.
"One week ago, I lost my soulmate and my children lost their hero – their Daddy," she wrote. "We had a fairytale life and now it has turned into some sick Shakespearean tragedy. How do I move on? How do I pick up my shattered soul?"
"He was a bright, loving soul with an angel's voice." Talinda continued: "And now he is pain free, singing his songs in all of our hearts.
"May God bless us all and help us turn to one another when we are in pain. Chester would've wanted us to do so. Rest In Peace, my love".
Photo Credit: Chris Parker