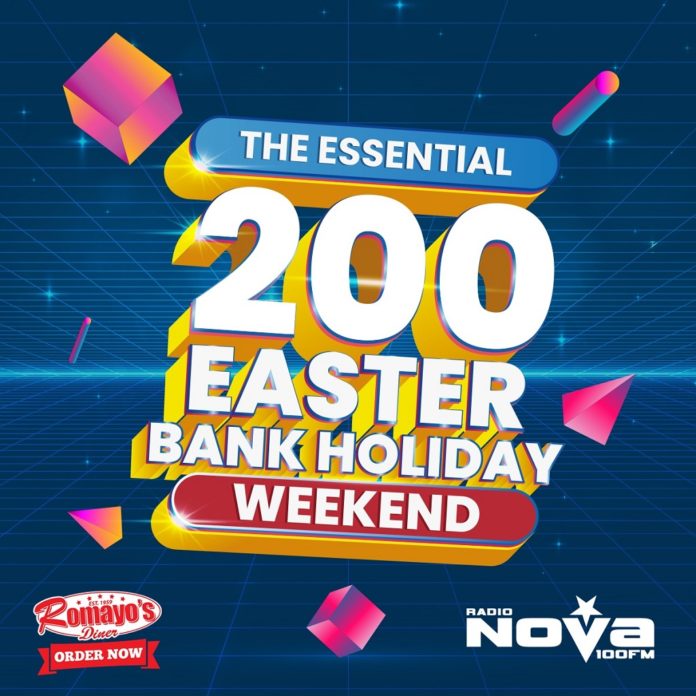 We asked you to help us build a playlist of The ESSENTIAL 200 and you delivered.
And because the response was so BIG we decided to make a playlist for you to listen to ON REPEAT!
So without further ado here is the list of The ESSENTIAL 200 as voted by you the listeners!
Enjoy!
RADIO NOVA'S ESSENTIAL 200
| | | |
| --- | --- | --- |
| 200 | Aslan | This is |
| 199 | ELO | Telephone Line |
| 198 | Kodaline | High Hopes |
| 197 | Counting Crows | Mr Jones |
| 196 | Kaiser Chiefs | I predict a riot |
| 195 | OCS | The Riverboat Song |
| 194 | Joan Jett | I love rock and roll |
| 193 | Rolling Stones | Honky Tonk woman |
| 192 | Oasis | Roll with It |
| 191 | Alice Cooper | Schools Out |
| 190 | Red Hot Chilli Peppers | Universally speaking |
| 189 | Bob Dylan | knocking On Heaven's door |
| 188 | New Order | True faith |
| 187 | The Jam | That's Entertainment |
| 186 | Rainbow | Since You've Been Gone |
| 185 | David Bowie | Life on Mars |
| 184 | Sinead O'Connor | Nothing compares to you |
| 183 | James | Sit Down |
| 182 | Steelers Wheel | Stuck in the middle with you |
| 181 | The Who | My Generation |
| 180 | Queen | Another One bites the dust |
| 179 | Wings | Band on the run |
| 178 | Kiss | Crazy Crazy Nights |
| 177 | The Verve | Sonnet |
| 176 | Foreigner | Cold as Ice |
| 175 | David Bowie | Young Americans |
| 174 | Snow Patrol | Run |
| 173 | Yes | Owner of a lonely heart |
| 172 | Foo Fighters | My Hero |
| 171 | Aerosmith | I don't wanna miss a thing |
| 170 | Sterophonics | Dakota |
| 169 | Neil Young | Heart of Gold |
| 168 | Cream | Sunshine of your Love |
| 167 | Status Quo | Rockin All Over The World |
| 166 | REM | Losing My Religion |
| 165 | Bruce Springsteen | Im on fire |
| 164 | Oasis | Morning Glory |
| 163 | Def Lep | Animal |
| 162 | U2 | Still have't Found.. |
| 161 | CCR | Have you ever seen the rain |
| 160 | Waterboys | Whole of the moon |
| 159 | ZZ Top | Gimme All Your Loving |
| 158 | Red Hot Chilli Peppers | Zephyr Song |
| 157 | The Band | The weight |
| 156 | Toto | Rosanna |
| 155 | Bob Dylan | The Times They Are a Changin |
| 154 | Hozier | Take me to Church |
| 153 | Police | Every little thing |
| 152 | Eagles | Life in the fast Lane |
| 151 | Kings of Leon | Use Somebody |
| 150 | Radiohead | High & dry |
| 149 | Them | Gloria |
| 148 | T Rex | Get it on |
| 147 | Pink Floyd | Wish you were Here |
| 146 | AC/DC | Back In Black |
| 145 | Pearl Jam | Alive |
| 144 | Gary Moore | Parisienne walkways |
| 143 | Green Day | Boulevard of Brokeb Dreams |
| 142 | The Smiths | Panic |
| 141 | Guns N Roses | Patience |
| 140 | Jimmy Hendrix | Purple Haze |
| 139 | Queen | Radio Ga Ga |
| 138 | Aslan | Crazy World |
| 137 | Boston | More than a feeling |
| 136 | Metallica | Enter Sandman |
| 135 | Neil Young | Rockin in The Free World |
| 134 | The Cure | Love Cats |
| 133 | ELO | Livin Thing |
| 132 | Blondie | Heart of Glass |
| 131 | Prince | When Doves Cry |
| 130 | Beatles | lady madonna |
| 129 | U2 | Beautiful Day |
| 128 | Tom Petty | I wont back down |
| 127 | Oasis | Shes electric |
| 126 | REM | The one I love |
| 125 | The Police | Walking on the moon |
| 124 | Thin Lizzy | Jailbreak |
| 123 | Blur | Country House |
| 122 | Whitesnake | Here I go again |
| 121 | Steely dan | Do It Again |
| 120 | Neil Young | My My Hey hey |
| 119 | Fleetwood Mac | Go your own way |
| 118 | Eric Clapton | Cocaine |
| 117 | Jimmy Hendrix | All along the watchtower |
| 116 | Pretenders | Brass in pocket |
| 115 | Lynyard Skynyrd | Sweet Home Alabama |
| 114 | Rod Stewart | Maggie May |
| 113 | CCR | Bad moon rising |
| 112 | David Bowie | Drive In Saturday |
| 111 | The Who | Who Are You |
| 110 | Phil Lynnot | Old Town |
| 109 | Phil Collins | In The Air Tonight |
| 108 | Dire Straits | Sultans Of Swing |
| 107 | Moody Blues | Nights In White Satin |
| 106 | Coldplay | Yellow |
| 105 | Rolling Stones | Cant always get what you want |
| 104 | Simple Minds | Dont you forget about me |
| 103 | Bruce Springsteen | Thunder Road |
| 102 | Foo Fighters | Learning to fly |
| 101 | Killers | Somebody Told me |
| 100 | The Clash | Should I stay or should I go |
| 99 | Police | Don't Stand So Close To Me |
| 98 | Fleetwood Mac | Little lies |
| 97 | Cranberries | Zombie |
| 96 | Linkin Park | Numb |
| 95 | OCS | The Day we caugh The train |
| 94 | David Bowie | Lets dance |
| 93 | Boomtown Rats | I don't like Mondays |
| 92 | Smashing Pumpkins | 1979 |
| 91 | Nirvana | Come as you are |
| 90 | REM | Shiny happy people |
| 89 | Red Hot Chilli Peppers | Under the bridge |
| 88 | U2 | Vertigo |
| 87 | Snow Patrol | Spitting games |
| 86 | Lou Reed | Walk On The Wildside |
| 85 | Undertones | Teenage Kicks |
| 84 | B.T.O | You Ain't Seen Nothing Yet |
| 83 | The Who | Wont get fooled again |
| 82 | AC/DC | Highway To Hell |
| 81 | ELO | Mr Blue Sky |
| 80 | Franz Ferdinand | Take me out |
| 79 | Brian Adams | Run to You |
| 78 | Goo Goo Dolls | Iris |
| 77 | Matt the Hoople | All the young dudes |
| 76 | Van morrison | Brown Eyed Girl |
| 75 | Queen | We are the champions |
| 74 | Tom Petty | Into The Great Wide Open |
| 73 | Led Zepp | Black Dog |
| 72 | U2 | Unforgettable Fire |
| 71 | Bruce Springsteen | Dancing In The Dark |
| 70 | Pink Floyd | Another brick in the wall |
| 69 | Guns N Roses | Paradise City |
| 68 | Kinks | Lola |
| 67 | Van Halen | jump |
| 66 | Stranglers | Golden Brown |
| 65 | Coldplay | Viva la vida |
| 64 | Golden Earring | Radar Love |
| 63 | Radiohead | Creep |
| 62 | Don Henley | The boys of summer |
| 61 | Dire Straits | Money For Nothing |
| 60 | Thin Lizzy | Don't believe a Word |
| 59 | Green Day | Good Riddance |
| 58 | The Doors | Light my Fire |
| 57 | Oasis | Champagne Supernova |
| 56 | Guns N Roses | Welcome to the Jungle |
| 55 | Rolling Stones | Start me up |
| 54 | The Verve | Bittersweet Symphony |
| 53 | Kinks | You Really Got Me Going |
| 52 | Bon Jovi | Bed Of roses |
| 51 | John Melancamp | Jack & Diane |
| 50 | Toto | Africa |
| 49 | Foo Fighters | Everlong |
| 48 | Blur | Song 2 |
| 47 | Beach Boys | Good Vibrations |
| 46 | David Bowie | Ashes to Ashes |
| 45 | Eric Clapton | Wonderful Tonight |
| 44 | Elton John | Tiny Dancer |
| 43 | Bryan Adams | Summer of 69 |
| 42 | Journey | Don't stop Believin |
| 41 | U2 | Desire |
| 40 | Lynyrd Skynyrd | Freebird |
| 39 | Bruce Springsteen | Glory Days |
| 38 | David Bowie | Heroes |
| 37 | Guns N Roses | Sweet Child o mine |
| 36 | The Clash | London Calling |
| 35 | Queen & David Bowie | Under Pressure |
| 34 | Ram jam | Black betty |
| 33 | Bon Jovi | Livin On A Prayer |
| 32 | Bruce Springsteen | Born In The USA |
| 31 | Meatloaf | You took the words right outta my mouth |
| 30 | Bob Dylan | Like a rolling stone |
| 29 | The Beatles | Get Back |
| 28 | Led Zepp | Whole Lotta Love |
| 27 | Rolling Stones | Brown Sugar |
| 26 | Killers | Mr Brightside |
| 25 | The Eagles | Hotel California |
| 24 | Oasis | Dont look back in anger |
| 23 | Bob Dylan | Lay Lady Lay |
| 22 | Prince | Purple Rain |
| 21 | Derek & the | Layla |
| 20 | Sabbath | Paranoid |
| 19 | Meatloaf | Bat out of hell |
| 18 | The Doors | Roadhouse Blues |
| 17 | AC/DC | Thunderstruck |
| 16 | Deep Purple | Smoke on the water |
| 15 | Foo Fighters | Times like these |
| 14 | Thin Lizzy | The Boys are back In Town |
| 13 | KOL | Sex On fire |
| 12 | Rolling Stones | Sympathy for the devil |
| 11 | John Lennon | Imagine |
| 10 | Nirvana | Smells like teen spirit |
| 9 | Bruce Springsteen | Born to run |
| 8 | Guns N Roses | November Rain |
| 7 | The Beatles | Hey Jude |
| 6 | Oasis | Wonderwall |
| 5 | Queen | Bohemian Rhapsody |
| 4 | Led Zepp | Stairway to heaven |
| 3 | U2 | Bad |
| 2 | AC/DC | You shook me all night long |
| 1 | Pink Floyd | Comfortably Numb |
The Essential 200…With Romayos.ie try their new Gourmet Grill signature kebabs, order now Romayos.ie