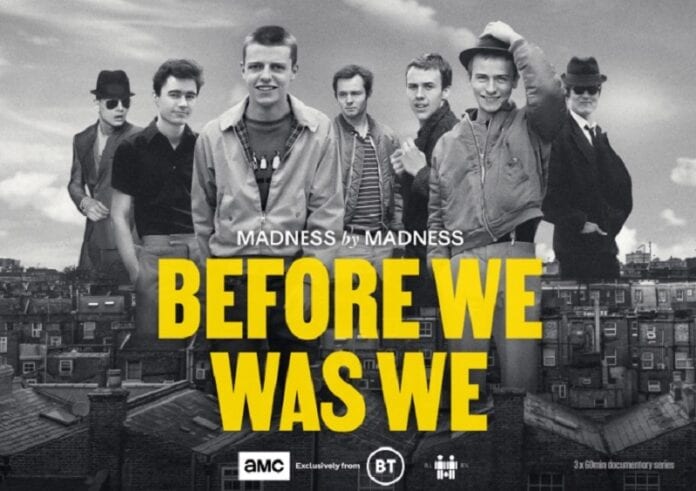 Ska legends Madness have announced a new three part documentary series entitled 'Before We Was We'.
The new series documents the band's history and has been adapted from a 2019 memoir of the same name.
The band have released 12 studio albums since forming in 1976.
In 2018, Madness set the record for the biggest audience ever for the BBC's Live New Year's Eve Broadcast – the most watched TV music event of 2018.
In 2012, the band played the Queen's Jubilee celebration and were the opening act for the closing ceremony of the London 2012 Olympics.
Throughout their career, Madness have had 10 UK top ten albums, 15 top ten singles and have won a multitude of awards including a prestigious Ivor Novello.
A trailer for the new series has been release and you can check it out below.
According to a press release, each hour-long episode features original footage as well as new interviews with band members past and present – including Chris Foreman, Mike 'Barso' Barson, Lee 'Thommo' Thompson, Graham 'Suggs' McPherson, Daniel 'Woody' Woodgate, Mark 'Bedders' Bedford and Carl 'Chas Smash' Smyth.
The musicians will look back on Madness' 40 plus year history. The series will also capture the major political and cultural events that happened throughout the band's career.
Discussing his long career with the band, frontman Suggs said:
"I don't remember ever thinking about whether it was going to last. You see this polished Madness that's been going for years and people would think, 'Course you knew.' But I didn't have a clue. I wasn't taking it the slightest bit serious."
"That's why I got thrown out of the band at the start, because I just thought it was a laugh and just something to do – hanging out with pretty cool geezers. The idea that I was ever going to make a career out of it was totally beyond my comprehension."
According to NME, at the unveiling event for the new documentary, Suggs said:
"We did single-handedly turn Camden Town from a shithole into one of the greatest tourist destinations on the planet."
'Before We Was We' will air on BT TV on May 1 at 9pm in the UK. At the time of writing, no Irish release date has been announced.
Photo Credit: AMC UK.