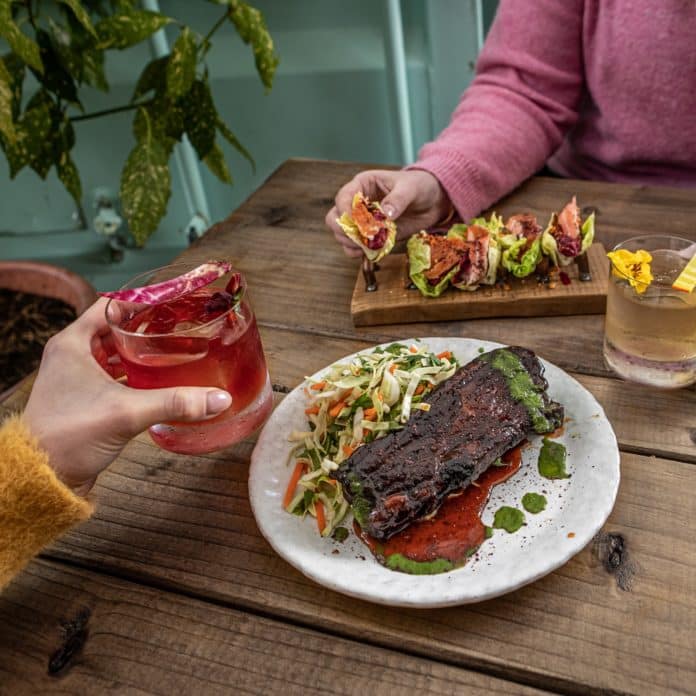 D-8TE is back for 2022 with a new line up of incredible local chefs taking over the Roe & Co whiskey distillery and celebrating the best of modern Irish food.
Running until April 24 three restaurants will be offering set menus with specially curated Roe & Co whiskey cocktail pairings and Ireland's first ever dessert and Irish whiskey tasting experience!
Kicking off this season of D-8TE "The Salt Project" chef Caomhán de Bri will be serving up a main course dish 'an gairdín' with Mc Nally's zero waste organic beetroot smothered in a miso glaze sauce with toasted sesame, wilted beetroot leaf, whipped vegan curd, apple marigold and crispy leek.
I was lucky enough to enjoy D-8TE experience first hand which starts with a show stopping small plate of Blaisíní bites including a crsipy Johnston Mooney & O'Brien cheese & onion Tayto tart!
"Man Street Kitchen's" menu will include their award-winning Blas na hÉireann hot smoked salmon served in crisp baby gem lettuce tacos and whiskey glazed pork rib
While Karen Smith, a classically trained pastry chef who blends sophisticated culinary techniques with playful dessert ideas, will close the season with a dessert tasting menu featuring Ferrero Rocher and Twix chocolate domes.
D-8TE runs Thursday to Sunday. Weekdays from 5:30pm; weekends from afternoon. Visit www.opentable.ie/r/roe-and-co-distillery-dublin to book a table and keep an eye on Instagram for the latest news on all things for the latest news on all things D-8TE.
Restaurant
Date
The Salt Project
3 – 6 March

10 – 13 March

17 – 20 March

Man Street Kitchen
24 – 27 March

31 March – 3 April

7 – 10 April

Roe & Co Dessert Bar Curated by Karen Smith
14 – 17 April

21 – 24 April
Please drink responsibly. Visit DrinkAware.ie