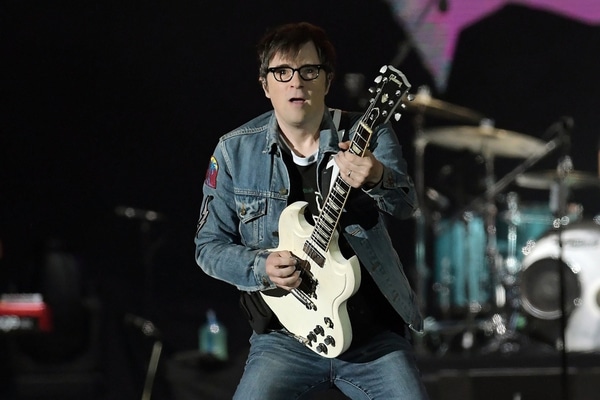 Rivers Cuomo has announced the launch of the Weezer themed Wordle game, Weezle.
Music fans, especially Weezer lovers will be able to put their knowledge to the test playing this web-based puzzle game. It is also been appropriately titled Weezle.
It's great when things fall into place like that isn't it?
"You'll probably love Weezle"
Confirming this news via Twitter, Rivers Cuomo released this statement.
"If you like Wordle and Weezer, you'll probably like Weezle", he wrote. The singer also added a link, where fans can try their hand at the game.
If you like Wordle and Weezer, you'll probably like Weezle. https://t.co/uj0TvkDQOb

— Rivers Cuomo (@RiversCuomo) March 3, 2022
Fans were not taking long to try their hand at the game and subsequently posted their results in the comment section.
Along with blocking the answers, many users nailed the inaugral Weezle on their first attempt.
Five-letter Weezer words in the game emanate from their discography. The answer also comes from the inaugral puzzle from Weezer's debut album Weezer (The Blue Album). Sorry Spoiler Alert!
Wordle is a five-letter puzzle game. It also involves players getting the same five-letter word daily. Each player gets six attempts to get the correct word.
When a player gets a correct answer, letters will turn green, while letters in the wrong puzzle turn yellow. Letters that do not feature on the puzzle's answer also turn grey.
It was created by software engineer Josh Wardle as a gift for his partner Palak Shah.
Weezer Weezify & Weezle
Last month, Rivers Cuomo built his own streaming platform, hosting thousands of demos. Similar to the Wordle game, Cuomo once again appropriately titled the App Weezify. More on this here.
Weezle is also the second musician-themed Wordle game to be created over the past few weeks.
Jessica Zaleski, Kelly Boyles and Krista Doyle who co-host a podcast called The Holy Swift also joined forces with a Swiftie-approved Wordle game called Taylordle.
Tweeting this news, they added that the words which feature in Taylordle are a part of "part of the Swiftie universe".
🚨Calling all Swifties who Wordle🚨

Introducing…..TAYLORDLE

All of the words are part of the Swiftie universe! Play now at https://t.co/rFf0IG6syj.

— Holy Swift Podcast (@holyswiftpod) January 28, 2022