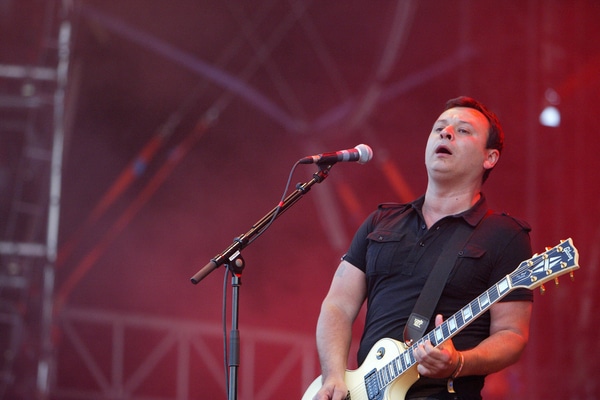 The Welsh rockers have blamed the pandemic for a delay to the release of their latest album.
Titled The Ultra Vivid Lament, the upcoming release will be the Manics' 14th album.
The album was originally scheduled for a September 3rd release, but has now been put back a week to September 10th.
The band announced the delay in a post on their official Facebook page.
"Due to a production issue relating to the global pandemic, Manic Street Preachers' new album The Ultra Vivid Lament will now be released on Friday September 10th," read the post.
No details were given of how exactly the pandemic had affected the delay.
The album will be the band's first since 2018's Resistance is Futile. Recent singles Orwellian and The Secret He Had Missed will feature on the tracklist.
Manics' lyricist and bassist Nicky Wire called The Secret He Had Missed "probably the most Abba-influenced track on the album, the piano track especially." The song is a collaboration with Sunflower Beam's Julia Cumming.
"It's what we would call pop in our world – that glacial kind of controlled energy that comes out in something melancholic, but uplifting," Wire said of the song.
A full tracklist has yet to be confirmed for The Ultra Vivid Lament. Back in January the band teased nine potential song titles for the upcoming record. Along with Orwellian and The Secret We Had Missed, the other titles were Blank Diary Entry, Afterending, Diapause, Don't Let The Night Divide Us, Happy Bored Alone, Still Snowing In Sapporo and Quest For Ancient Colour. Whether all of those songs have made it to the final album remains to be seen.
View this post on Instagram
"It's very broad – it feels like an expansive record," Wire said of the new album in an interview with NME back in January. "Resistance Is Futile certainly felt more tight and 'pop' in a Manics sense. Everything was really melodic and concise. This album just feels broader. It's got a wider landscape, sonically. It's early days, but Orwellian feels like the one track to guide us. I wouldn't call it a directly political song, but it has that element of the times that we live in."
Wire claimed his writing had been influenced by the deaths of his parents.
"Since losing both my parents, I've been kind of overwhelmed at that situation," the bassist said. "There's a deep-rooted sadness and melancholia that overhangs everything."
Wire recently apologized for a 1993 interview in which he stated that he wished REM frontman Michael Stipe would die of AIDS. The bassist also criticised artists who accept Royal awards, saying he would rather "stab my eyes out with a pencil" than accept a knighthood or OBE.