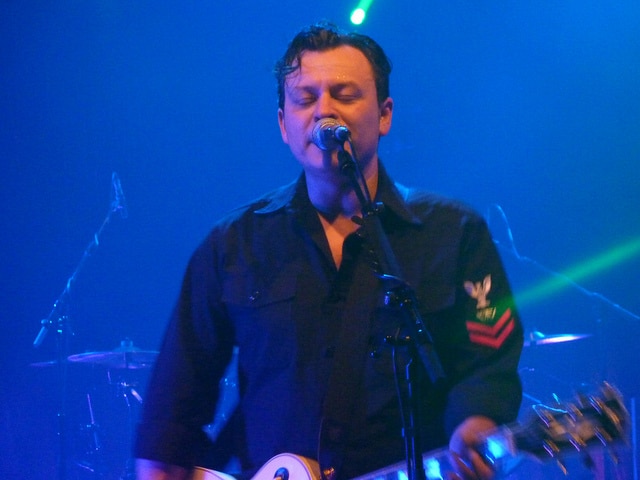 Manic Street Preachers have announced details of a 20th anniversary edition of their 1994 album The Holy Bible.
The band will re-release the record on CD and vinyl editions early next month. It'll be the first time the LP will be available on vinyl since its original release.
The Holy Bible was the third studio album by the Welsh rockers. At the time the album was written, lyricist and guitarist Richey Edwards was struggling with severe depression. The album's lyrics are considered by many to reflect his deteriorating mental state. The Holy Bible was the last of the band's albums released before Edwards' disappearance on 1 February 1995.
The 20th anniversary release includes the band's BBC recordings of their 1994 live shows at the London Astoria, a book of rare photographs and sleeve notes written by each of the members.
It will also feature the American mix of the record and a CD of B-sides and live recordings including an unreleased version of the track 'Revol' and songs from their Glastonbury set. As well as the band's recent session at Maida Vale, recorded for Radio 4's Mastertapes series in September 2014.
In September, Manic Street Preachers announced that they are set to tour The Holy Bible, playing it live and in full for the first time in nearly two decades. The gigs are all to take place in December, the group will play Dublin's Olympia Theatre on Saturday 13th.
The full details and track listing are as follows:
The Holy Bible – Remastered Vinyl/CD
'Yes'
'Ifwhiteamericatoldthetruthforonedayit'sworldwouldfallapart'
'Of Walking Abortion'
'She Is Suffering'
'Archives Of Pain
'Revol'
'4st 7lb'
'Mausoleum'
'Faster'
'This Is Yesterday'
'Die In The Summertime'
'The Intense Humming Of Evil'
'P.C.P.'
'The Holy Bible' – Remastered US Mix
'Yes'
'ifwhiteamericatoldthetruthforonedayit'sworldwouldfallapart'
'Of Walking Abortion'
'She Is Suffering'
'Archives Of Pain'
'Revol'
'4st 7lb'
'Mausoleum'
'Faster'
'This Is Yesterday'
'Die In The Summertime'
'The Intense Humming Of Evil'
'P.C.P.'
B-Sides and Live Recordings
'Sculpture Of Man (Album Version)'
'New Art Riot (In E Minor) (Live from the Clapham Grand)'
'Too Cold Here'
'You Love Us (Original 'Heavenly' Version)'
'Love's Sweet Exile (Bangkok Live)'
'Drug Drug Druggy (Live at Glastonbury)'
'Roses In The Hospital (Live at Glastonbury)'
'You Love Us (Live at Glastonbury)'
'Love Torn Us Under'
'The Drowners (Live)'
'Stay With Me (Live)'
'La Tristesse Durera (Scream To A Sigh)' (Vocal Mix)
'La Tristesse Durera (Scream To A Sigh)' (Dub Mix)
'Faster' (Dub Mix)
'Faster' (Vocal Mix)
'Revol (Previously Unreleased)
BBC Concert – The Astoria, December 1994
'P.C.P.'
'From Despair To Where'
'Yes'
'Faster'
'She Is Suffering'
'La Tristesse Durera (Scream To A Sigh)'
'Slash 'n' Burn'
'Motorcycle Emptiness'
'New Art Riot'
'Life Becoming A Landslide'
'Revol'
'4st 7lb'
'This Is Yesterday'
Radio 4 Session At Maida Vale, September 2014
'4st 7lb (Excerpt)'
'Faster'
'P.C.P'
'This Is Yesterday'