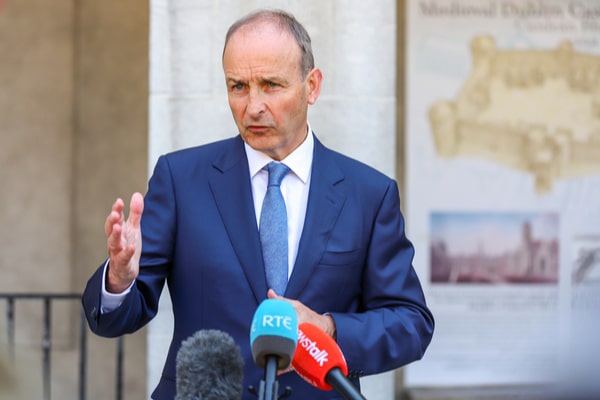 Taoiseach Micheál Martin has said that he has "no issue" with children under five years of age getting vaccinated against Covid-19.
The vaccine has been deemed safe to use on children between the ages of 5-11 according to tests carried out by Pfizer and Biontech. Children of that age would also receive a smaller dosage than 12 year olds.
These results will also be submitted to the EU regulators "as soon as possible". 
"no issue with the principle of that" – Martin
On vaccinating children under 12, Mr Martin has this to say.
"I've no issue with the principle of that", he said.
But I would be bound by public health guidance in respect of the public health who will have to weigh up the benefits for the child in respect of receiving the vaccine as opposed to the risks to the child. So that will have to be a public health and clinical issue that would be assessed in the first instance by the National Immunisation Advisory Committee (NIAC) and by the Public Health Division, particularly the chief medical officer". 
The Taoiseach said that the benefits of vaccinating children against the virus would also have to weighed up.
He also pointed to the poorer countries who have received little vaccine supplies.
"We have to be conscious of Africa is at a very low single digit number – on to 3% in some countries in Africa", he added. "So there is a point in time and we've got to say, the vaccines needs to be used elsewhere". 
"transitionary phase"
These comments made by Micheál Martin come as the HSE CEO Paul Reid said that Ireland is moving to a "transitionary phase" of the pandemic.
"It is a different phase we're in now, we're in a phase now where we are moving towards I guess a transitionary phase", he said. "It's not eradicating the virus by any stretch, but it is a different phase". 
Reid continued, "The one good thing about Ireland in response to Covid is there have been many expert people giving their views throughout, these things are never binary".
"What we are seeing is much lower levels of transmission in schools. It was around 15 or 16 per cent, now that's at five per cent". 
Earlier this month, Micheál Martin said that next month's budget could see and increase in fuel allowances. More on that report here.