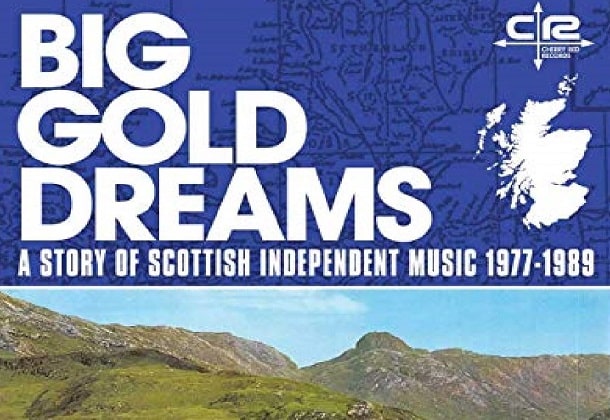 Next month, Cherry Red Records is set to follow up its mammoth compilation releases that showcased the finest acts from Manchester and Liverpool.
This time around the spotlight turns to the Scottish independent-music scene between 1977 and 1989. The retrospective will be released in the form of a new five-disc, 115-song collection. It's Called Big Gold Dreams: A Story of Scottish Independent Music 1977-1989 and is due out on February. 22nd.
The humongous box set will honour likes of Simple Minds, The Jesus and Mary Chain, Altered Images, The Skids, Primal Scream, The Waterboys, Cocteau Twins, Aztec Camera, Soup Dragons, The Vaselines and Josef K.
This glorious compendium comes after 2017's Manchester North Of England: A Story Of Independent Music | Greater Manchester 1977-1993 and 2018's Revolutionary Spirit: The Sound of Liverpool 1976-1988  This release will contain essays and band histories by filmmaker Grant McPhee, Neil Cooper and Tim Barr in a 70-page booklet.
Chock-full with first-hand artist sleeve-notes, informative essays, pictures and excellent, essential music, this is a story a long time coming…
DISC 1
WHAT A WAY TO END IT ALL – Deaf School
2. BIG IN JAPAN – Big In Japan
3. SUFFICE TO SAY – Yachts
4. THE PICTURES ON MY WALL – Echo And The Bunnymen
5. LIL'S GONE TO PARIS – Ded Byrds **
6. BREAKTHROUGH IN GREY ROOM – 0-51 **
7. TODAY'S MYSTERY IS… – The Dance Party **
8. SLEEPING GAS – The Teardrop Explodes
9. FACTION-Faction
10. TOUCH – Lori And The Chameleons
11. BLACK LEATHER – Nightmares In Wax
12. BUNKER SOLDIERS – Orchestral Manoeuvres In The Dark
13. 194 RADIO CITY – Jaqui & Jeanette
14. LONELY EVENING – Clive Langer And The Boxes
15. MORNING, NOON AND NIGHT – Glass Torpedoes
16. COULD THIS BE HEAVEN – Original Mirrors
17. HEADS I WIN – The Moondogs
18. BREAK IT TO ME GENTLY – The Planets
19. DO THE CHUD – The Chuddy Nuddies
20. BRITISH REFUGEE – Spitfire Boys
21. THE DOCTOR – Geisha Girls 22. DON'T STOP THE WORLD – Deaf School
DISC 2
DALEK I LOVE YOU (DESTINY) – Dalek I
2. TELECOMMUNICATION – A Flock Of Seagulls
3. WHEN I DREAM – The Teardrop Explodes
4. HIT THE MOON – Ellery Bop
5. NUCLEAR SUMMER – The Nice Men
6. HUMAN FEATURES – Black
7. TOTAL RECALL – Systems
8. TOUCH – Freeze Frame
9. SUPERMAN – Attempted Moustache
10. INTERCONTINENTAL – Afraid Of Mice
11. RESCUE – Echo And The Bunnymen
12. PIGGIE IN THE MIDDLE EIGHT – Cook The Books
13. CREATION REBEL – Windows
14. MY MOTIVE – Chinese Religion
15. TOO LATE TO FLY THE FLAG – Hambi And The Dance
16. SOLDIERS – Egypt For Now
17. DOWN AT THE ZOO – Those Naughty Lumps
18. EUTHENICS – Modern Eon
19. LAUNDERETTE – A Formal Sigh **
20. NIGHTLIFE – The Moderates **
DISC 3
REVOLUTIONARY SPIRIT (STEREO MIX) – Wild Swans
2. AFRICAN AND WHITE – China Crisis
3. DON'T LET GO – Pink Industry
4. OBSESSIONS – Passion Polka
5. I'M THINKING OF YOU NOW – Box Of Toys
6. FLAMING SWORD – Care
7. DORIAN GRAY – The Bamboo Fringe
8. SHE'S LOCKED MY LIFE UP IN HER SUITCASE – Steve Lindsey
9. OCEANIC EXPLORERS – Ex Post Facto 10. SOME ASPECTS –
Chain Of Command
11. HE'S DEAD ALRIGHT – Ambrose Reynolds
12. ART ON 45 – Royal Family And The Poor
13. THEMES FOR 'GRIND' SCENE V – Will Sergeant
14. THROUGH THE GLASS – Shiny Two Shiny
15. BIRDS FLY (WHISPER TO A SCREAM) – Icicle Works
16. A GIGANTIC RAFT IN THE PHILIPPINES – It's Immaterial
17. TOXTETH – Public Disgrace
18. PLAYING FOR TIME – Send No Flowers
19. THINGS HAVE LEARNT TO WALK THAT OUGHT TO CRAWL – The Room
20. SHE KEEPS HER SECRET – The Balcony (Mk I)
21. BURST BALLOONS – The Turquoise Swimming Pools
DISC 4
TWO TRIBES – Frankie Goes To Hollywood
2. REASONS TO LIVE – Mr Amir
3. EVERY DAY ANOTHER DREAM – Brenda And The Beach Balls
4. THE FIRST PICTURE OF YOU – The Lotus Eaters
5. MISTY CIRCLES – Dead Or Alive
6. ARE YOU READY FOR THAT FEELING? – Virgin Dance
7. VALLEY OF EVERGREEN – Alternative Radio
8. JIMMY'SGRIN–Margox
9. – KARDOMAH CAFÉ (2017 MIX) – The Cherry Boys
10. CONTRASTING STRANGERS – The Light
11. JEAN'S NOT HAPPENING – Pale Fountains
12. IT'S A WONDERFUL LIFE – The Balcony (MK II) **
13. WORKING FOR THE MAN – The High Five
14. JAMES WHERE ARE YOU NOW? – The Press Gang
15. MY WAR – Western Promise
16. DON'T CRY DARLING (DADDY HAD TO DROWN THE CAT) – Old Ma Cuxsom And The Soapchoppers
17. HAPPEN – The Rioutous Hues
18. BOMB SUTRA – Mel-O-Tones
19. HELL – Marshmallow Overcoat
DISC 5
ALWAYS THE BRIDESMAID – Jegsy Dodd And The Sons Of Harry Cross ‎
2. GET DOWN OVER – The La's
3. HIP AND HER CHEEK ELECTRIC (DEMO) – Barbel
4. A TRICK OF FATE – Magic Carpets
5. DEVIL LAUGHING – Benny Profane
6. THE TALLEST MAN – Jactars
7. DIDN'T WE HAVE A NICE TIME? (AND ALL MY FRIENDS ARE HERE) – The Tempest
8. PRECIOUS LOVE – The Onset
9. PAT NEVIN'S EYES – The Tractors
10. DANCE – Cyclic Amp
11. WHEN YOU'RE IN – The DaVincis
12. WAY OUT – The La's
13. TANTRIC WIPEOUT – The Walking Seeds
14. BURNIN' AND LOOTIN' – Ministry Of Love
15. BIG BAD MONEY WORLD – A Game Of Soldiers
16. ONLY IN AMERICA – Exhibit B
17. SONS OF – Thomas Lang
18.COME HOLY SPIRIT- Revolutionary Army Of The Infant Jesus
Image: Big Gold Dreams: Cherry Red Records
Don't forget you can keep up-to-date on all things Nova over on our Instagram page – follow us for all the craziness of radio life coupled with news, sports and LOTS of cool competitions! Click here…