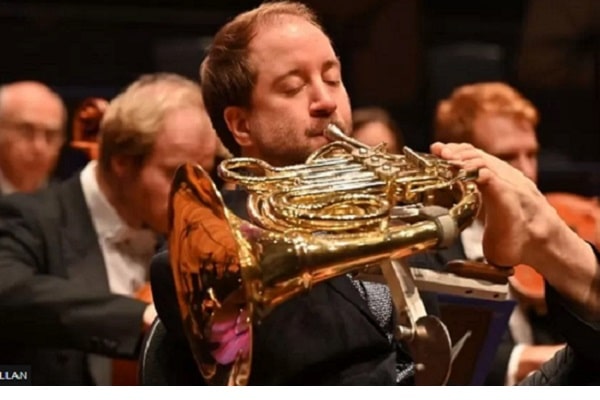 Would you like to listen to the article instead of reading it?
Here at Radio Nova, we champion the arts. We also like to highlight those that are pursuing a career in the music business, despite facing major life obstacles, ergo French Horn player, Felix Klieser.
The German musician whose picture can be spotted on this years' BBC Proms Poster, was born without any arms, using his foot to play the instrument. Incredible!
Having asked to learn how to play the instrument aged four, Klieser eventually enrolled at the Hanover University of Music, Drama and Media, winning a prestigious prize.
Facing a string of questions throughout his life, including how would be able to change a note?, or how could he play an instrument which requires one hand to support the horn?, Klieser eventually worked with a "creative person who can build strange things", developing a technique, allowing him to hold the instrument in place.
Felix eventually perfected a skill, where he kicked his left leg up, angling his right foot, to use his toes as playing fingers on the French Horn.
"more trial and error"
The big challenge for Klieser, was making the French Horn, sound like a French Horn.
As he is unable to put a hand in the bell, Klieser soon realised that he would have to create the tone completely through the way he played.
"There was no teacher who could teach you how to play the horn in this way. It was more trial and error. I've just my lips, I've just my air", Klieser said.
"You have to control the air in a different way and take care of the position of your lips, of your tongue. This was maybe the most challenging thing, I practised a lot".
On becoming a French Horn player, Felix Klieser described it as a "little miracle".
Music fans will be able to watch this "little miracle", perform at London's Royal Albert Hall in his BBC Proms debut on 2 and 3 August. The musician will perform Mozart's Concerto No 4.
"I'm excited", Klieser said ahead if his show. "For me the most important thing is to get to know the audience here".
He added, "When you're young and start a career then you're looking to play with famous conductors, famous orchestras. But right now I want to play music for people to make the world a little bit more beautiful".
Click here to check out ZZ Top's Billy Gibbons performance with a guitar made out of almost entirely from cardboard.