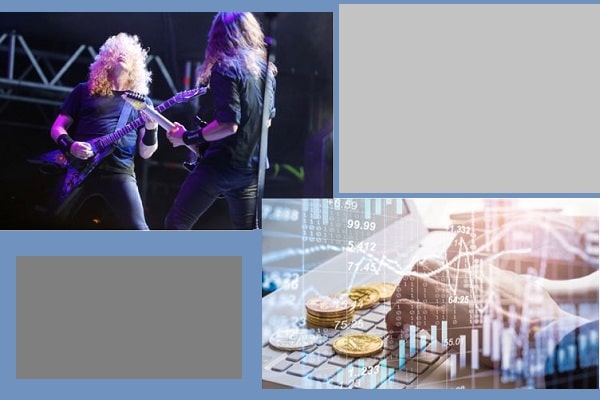 LA metal heads, Megadeth have ventured into the world of crypto by creating their very own digital currency. Fans can now gain access to some exclusive and premium benefits through buying, holding, and transacting with the $MEGA crypto.
The pioneering thrash metal group officially announced $MEGA as their official cryptocurrency on the Megadeth social media account. In a statement it is explained that "by buying, holding, and transacting with $MEGA, fans will gain access to exclusives and premium benefits."
"Cyber Army members that also hold $MEGA will unlock additional exclusives, access, and offers," it continued. "As a thank you to the Cyber Army, we're gifting $MEGA to all of our Premium, Deluxe and Free members."
Megadeth continues its expansion into the blockchain by moving into the currency game following the sale of their first non-fungible token (NFT) in April. The token, a digital art piece titled Vic Rattlehead: Genesis, sold for 8.4 ETH, or about $18,000 at its time of purchase.
Meanwhile, Megadeth is set to release the long-awaited new album, The Sick, the Dying… and the Dead!, during the spring of '22. Speaking in an interview with American Songwriter magazine, Dave Mustaine spoke on the release, and uncovering the album title earlier this year.
Sharing the interview online, Mustaine details his recovery from cancer, his switch to Gibson Guitars, and probes the upcoming album's title track. The 60-year-old rocker further explains the record as like the 14th century bubonic plague, the Black Death.
The Megadeth frontman calls the record "a historical journey of how the plague started and where it went, starting with rats on ships carrying the disease, coming ashore in Sicily. 'Ring Around the Rosie' was the ring on your cheek, the [rash] that would show on your cheeks from the plague."
The band's current line-up consists of frontman Dave Mustaine, guitarist Kiko Loureiro, drummer Dirk Verbeuren and bassist James LoMenzo, who replaces former Megadeth bassist, David Ellefson. Ellefson had been removed from the group following videos of him masturbating on a video call with a fan surfaced online.