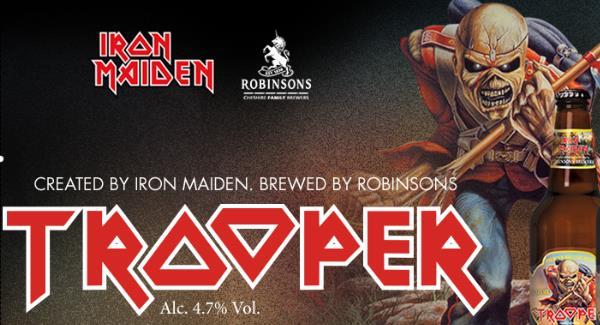 A couple of weeks ago we wrote about Status Quo and the launch of their own brand of beer which went on sale on the 17th of February last. However Quo weren't the first to launch their own brand of beer, they were following in the footsteps of fellow musicians Iron Maiden who launched their own beer, aptly named the Trooper in 2013.
It has been revealed that  the beer has been a huge success. Having gone one on sale last Spring, Trooper sold one million pints within eight weeks of launching and even featured as a guest ale at Parliament in the UK. And news out recently has shown that now, the beer has sold over 3.5 million pints to date. All without spending a penny on any marketing!
Director of marketing with Robinsons Brewery, David Bremner has said:
"Authentic collaboration is identifying and understanding the demographic of the band's following, and matching that with suitable product for their age group and tastes. Bruce is considered knowledgeable and fanatical about beer, so there is a truly authentic relationship, which adds weight to the reasoning".
"Trooper drives footfall. Pubs listing it show 8% sales growth, he added and unveiled statistics from Robinsons, 340 put tenanted estate showing 223 pubs having tried Trooper and 97 have sold over 10 by 9 gallons of it, equal to 641 barrels in total".
The beer is widely available in Ireland and is imported through Premier International, which is based in Enfield in County Meath.
Other acts who have tried to cash in on the enterprise include the band Motorhead and a TV chef, however Robinsons refused saying they didn't fit in with the image of the brewery and they were "not very Robinsons"
By Martin O Brien.