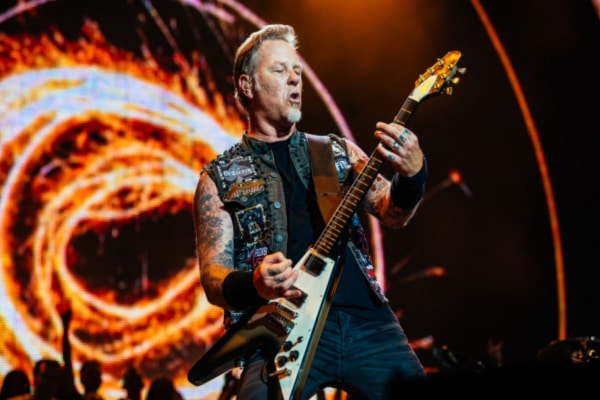 Metallica have sold more tickets for their shows than any other metal band in the last 40 years, according to reports.
This report was published by live music industry 'bible' Pollstar. It was also published to mark Pollstar's 40th anniversary.
According to the report, Metallica have sold 19,468,173 tickets, across the last four decades. These numbers only consider stand alone headline shows, and not live festivals.
Imagine what their figures would be like if they did!
The reports have also stated that only five artist have sold more tickets than Metallica across all genres. These artists are U2, the Dave Mathews Band, the Rolling Stones, Bruce Springsteen, the E Street Band and Elton John.
The report also added that the Rolling Stones have sold the most box office grosses, accruing $2,165,280,638 across the last forty years. They have also sold 22,137,799 tickets in that time.
On the other hand, Metallica have earned $1,219,599,179, which is more than Paul McCartney. While, Bon Jovi, Celine Dion and Madonna have earned more.
This list also includes bands like Guns N'Roses who have earned $751,306,152 from 8,470,755 ticket sales.
AC/DC have also earned $668,427,967 from 11,512,424 ticket sales.
Iron Maiden have also earned gross figures $475,817,777 from 9,187,132 ticket earnings. Def Leppard have also earned $514,231,844 gross from 11,321,650 ticket sales in the last 40 years.
You can see this report in full here.
Metallica & Joseph Quinn
Speaking of Metallica, their track 'Master Of Puppets' saw a resurgence in popularity following its inclusion in Netflix hit Stranger Things.
Last week, actor Joseph Quinn who played Eddie Munson in the show, also played with Metallica backstage at last weekend's Lollapalooza Show.
Footage of this show was shared via the band's Instagram account, showing Quinn and Metallica jamming to some of the band's greatest hits.
In the footage,Metallica frontman James Hetfield told Joseph Quinn that he's a "big fan" of the Netflix series.
"Have been since season one," James shared. "My kids and I, it's been a bonding experience for us". 
Later in the video Quinn jams out with the gang, impressing them all with his skills. Check out this footage and Nova's report here.