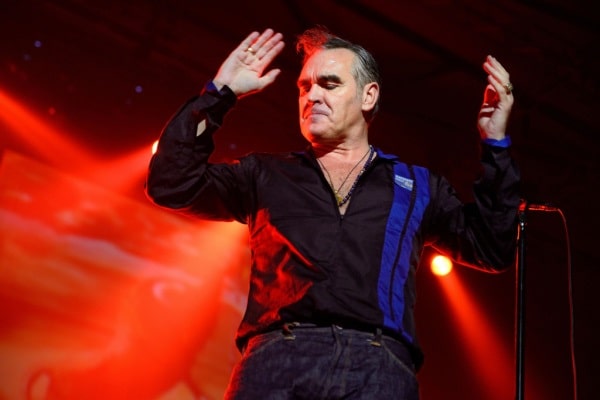 Morrissey has finally confirmed the release of his much-anticipated album 'Bonfire Of Teenagers'. 
Arriving in February 2023, the album is to feature a myriad of star studded guests, including members of the Red Hot Chili Peppers, Iggy Pop, and Miley Cyrus.
Morrissey had initially announced this album back in May 2021, with the delay regarding its release date largely down to the fact that the singer is "unsigned", with the record "available to the highest (or lowest) bidder".
However, it appears the album has a release date for the US at least, with Capitol Records seemingly the preferred bidder. No UK date has yet to be officially announced.
"The worst year of my life concludes with the best album of my life", Morrissey had said last year.
Along with agreeing the deal for Morrissey's album, Capitol Records have also licensed the rights to re-release Morrissey's albums 'Ringleader Of The Tormentors', 'You Are The Quarry', 'Southpaw Grammer', 'World Peace Is None Of Your Business', and 'Years Of Refusal'.  
'Bonfire Of Teenagers' Featuring Star Studded Line Up
In a message which was shared via Morrissey's website, the album is to feature drummer Chad Smith and Flea of the Red Hot Chili Peppers, along with former guitarist Josh Klinghoffer.
Iggy Pop, Jesse Tobias and Miley Cyrus are to also feature on the record, along with producer Andrew Watt.
Check out the track list below.
1. 'I Am Veronica'
2. 'Rebels Without Applause'
3. 'Kerouac's Crack'
4. 'Ha Ha Harlem'
5. 'I Live in Oblivion'
6. 'Bonfire of Teenagers'
7. 'My Funeral'
8. 'Diana Dors'
9. 'I Ex-love You'
10. 'Sure Enough The Telephone Rings'
11. 'Saint In a Stained Glass Window'
The former Smiths' lead singer had debuted several tracks earlier this year, including 'I Am Veronica' and 'Kerouac's Crack', along with the title track 'Bonfire Of Teenagers'.
Back in September, Morrissey took to the stage for his "only appearance" on Irish soil, with a live performance in Killarney's Gleneagles INEC Arena. It was confirmed under the headline 'Irish Blood'. More on this here.