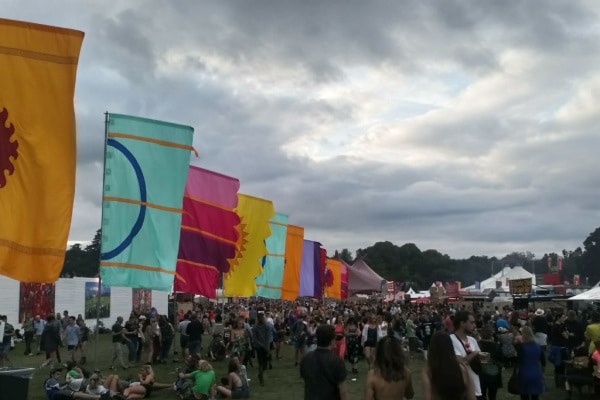 Would you like to listen to the article instead of reading it?
Music lovers who were fortunate enough to be present in Stradbally for the third day of Electric Picnic, were in for a treat!
70,000 fans descended upon Stradbally were treated to some marvellous acts, from Rick Astley to the Saw Doctors, with the Killers even taking to the stage.
Check out a photo of fans descending upon Stradbally over the weekend below.
However, the stage well and truly belonged to The Wolfe Tones, who drew in the biggest crowd ever witnessed at an Electric Picnic stage.
Fans were certainly relieved to see the sun splitting the stones in county Laois, with events organiser Melvin Benn remarking, "I've literally been at every one and I have never known it to be this hot".
The Wolfe Tones performing Grace at Electric Picnic 2023.

Magic. 🇮🇪@EPfestival @thewolfetones pic.twitter.com/O8RBkEwERZ

— Seán Reidy (@ReidySean) September 3, 2023
It's Electric Picnic Come Early In 2024
Looking ahead to next year, Electric Picnic will begin earlier than usual, taking place between August 16-18 next year.
Next year's event will mark 20 years of the festival.
This has not gone down well with farmers, with the IFA pointing out the fact that they will be in the middle of harvest season, meaning a lot of farm machinery will be on the roads at the time.
They have also insisted that it is not realistic to move that amount of grain, with 70,000 music fans arriving in Stradbally next August.
Speaking about next year, Melvin Benn has revealed that the capacity will increase by 5,000.
Benn also added that enjoying the festival live, provides him with the opportunity to evolve Electric Picnic, as he enjoys the acts, and mingles with the crowd.
"I see joy in the creation and when the punters are in they feel part of the show. Not just like people who are watching. I think it's the festival goers of the picnic that make it particularly special. They bring a vibrancy they bring a joy and a feeling of this is our weekend and this is Ireland's most amazing festival and I don't think there is anyone that would question that statement and arguably the best festival in the European festival", he said.
Tickets for next year's show will go pre sale on Thursday (September 7), before going on general sale the following day. A final release of tickets will happen on October 1.
More here.