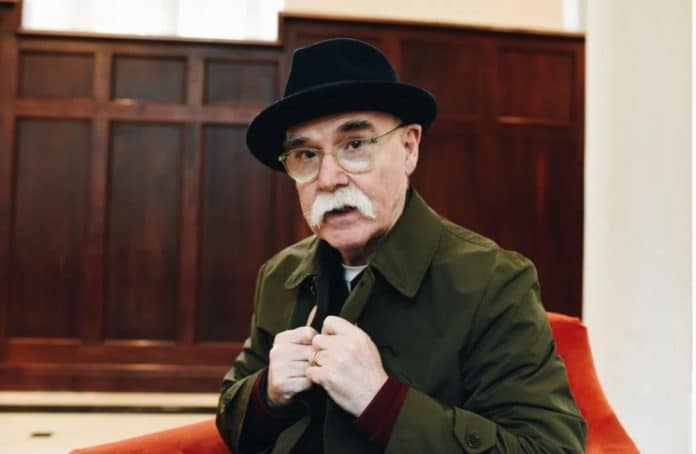 Would you like to listen to the article instead of reading it?
Northern Irish novelist, music manager and promoter Paul Charles is to release his upcoming memoir, Adventures In Wonderland for publication tomorrow.
On top of that, the Magherafelt native is going on tour to promote this book, which will see him roam across the country.
Charles will make several public appearances to promote his book at The Rock 'n' Roll Book Club, in Walthamstow, London tonight (May 18).
Other tour dates also include an appearance at the Old Courthouse, Bangor on May 21, Dublin's Literature Festival on May 26.
Charles also confirmed that he will talk about his book at the Dalkey Book Festival in June, which will also feature Tom Hanks.
"a bit of fun basically"
Ahead of these shows, Charles stopped in for a chat with our very own Marty Miller from [email protected] to give music lovers an insight into what to expect from this book.
"It's a bit of fun basically", Charles explained. "It talks about the start of my career to present day. It tells you about how it was possible for somebody from Magherafelt to go on to work with such incredible artists".
He continued, "It tells you stuff about the mechanics of the entertainment business, what may or may not work, and what I feel needs to be avoided".  
The interview also sees Charles mention a humourous anecdote involving Led Zeppelin's Robert Plant and an ironing board. Find out more here.
Paul Charles' promotion agency includes an impressive litany of stars including Ray Davies (The Kinks), Christy Moore, Waterboys, Don McLean, Paul Carrack, Tom Waits among others.
Paul Charles Tour Dates
Thursday 18 May: The Rock 'n' Roll Book Club, Walthamstow, London, Guest interviewer Mark Billingham. Doors at 7pm
Friday 19 May: Irish Cultural Centre, Hammersmith, London. Guest interviewer: Richard Mills. Doors 8pm.
Sunday 21 May: Sunday 21 May: The Court House, Bangor, Guest interviewer: Kieran Gilmour. Doors 2pm for 3pm
Tuesday 23 May: The Sound Lounge, 216-220 High Street, Sutton, London. Guest interviewer: Paul Sexton
Friday 26 May: The International Literary Festival Dublin, Merrion Square Park, Dublin. Starts 8pm.
Wednesday 7 June: The Stables, Milton Keynes, England. Guest interviewer: Peter Van Hooke. Stage Two @ 8.45pm.
Thursday 8 June: Seamus Heaney HomePlace, Main St., Bellaghy, Co. Derry. Guest interviewer: Michael Bradley. Doors 7.15pm for 7.30pm.
Friday 9 June: Charlie Byrne's Bookstore, Galway, Ireland. Guest interviewer: Ollie Jennings. 6pm