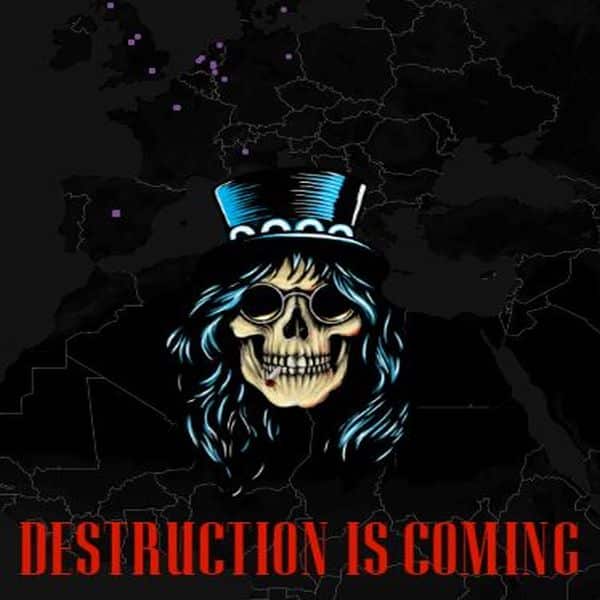 Rock journalist Mitch Lafon is reported to have posted that Guns N' Roses are planning an Appetite for Destruction 30th anniversary deluxe reissue! Writing on Facebook Lafon said, '‪Welcome To The J̶u̶n̶g̶l̶e̶ Deluxe edition box set with tons of goodies… Coming soon .'
Nova reported yesterday that a billboard appeared in London featuring all five original members of Guns N' Roses. Steven Adler and Izzy Stradlin, were omitted from the reunion lineup but were featured in the poster artwork pictured below.
On a website called GNR.FM, there was also a graphic that stated,  'DESTRUCTION IS COMING' with a countdown that expires this Friday.
It remains speculation if Adler or Stradlin will perform with the band as part of the rumours concerning the Appetite for Destruction reissue. According to AlternativeNation, Steven Adler has said in interviews that last year GNR management had dicussed planning something cool for Appetite for Destruction's 30th anniversary.
Steven Adler recently opened up in an interview concerning his and Izzy Stradlin's omission from the Not In This Lifetime tour with Hysteria Mag.
'The thing about Guns N' Roses that made us so great and so magical is because we were a magic band, like Led Zeppelin, or Aerosmith, or Queen. Once we were together we couldn't do anything wrong. If one person left the band and did Appetite, Appetite would not be Appetite. And it's a shame because Use Your Illusion when we did the demo tape, I kept saying, or we kept saying, it was gonna be bigger and better than Appetite but once they kicked me out of the band, part of the magic was gone. It's a different band. A completely different band.'