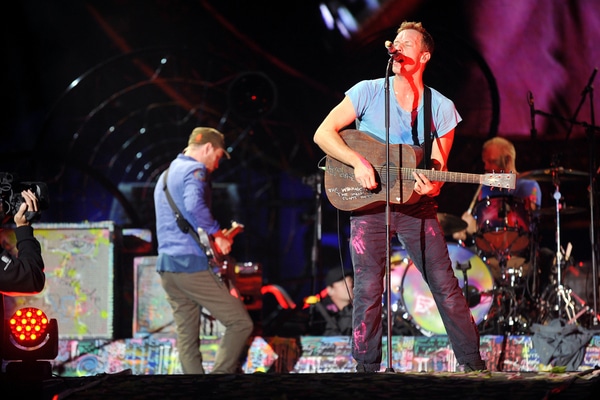 Coldplay have been promoting their upcoming new album with a series of mystery billboards.
Following similar recent campaigns by Drake and Adele, Coldplay have been using a digital billboard in central London to tease the release this Friday of their latest album, Music of the Spheres.
The billboard features lyrics from Biutyful, which is track number eight on the band's eagerly awaited ninth studio album.
"All I know is I love you so/ I hope you get everything you want in this biutyful life/ Change for your pocket, someone for the night/ I hope they name you a rocket and take you on a ride for free/ And if they tell you you're nothing, maybe you'd explain/ To me you're the summer sun after rain," the lyrics read on the billboard.
The billboard can be seen at Westfield Shepherd's Bush, London. Along with the lyrics, the display features a digital animation of planet Earth. That image was also recently seen in a teaser video for Let Somebody Go, Coldplay's upcoming collaboration with Selena Gomez.
Also featured on the digital display is an interactive Spotify code. If scanned by a smartphone the code takes you to a playlist containing Music of the Spheres' lead singles My Universe and Higher Power along with some of the band's earlier hits.
Lyrics to Coldplay's track Biutyful, from new album Music of the Spheres, have appeared on a digital billboard in London at the @alienradiofm coordinates

📸 @ColdplayFrance pic.twitter.com/udrTEjxH4c

— ColdplayXtra (@coldplayxtra) October 11, 2021
Further billboards are set to be erected at locations around the world in the lead up to Music of the Spheres' release.
"We're excited to launch a global scavenger hunt with Spotify to unveil the lyrics from our new album Music of the Spheres," a statement from Coldplay reads. "We hope fans around the world have fun following the clues and hunting down the alien billboards."
Music of the Spheres has already spawned a hit single in My Universe, which saw Coldplay top the US Billboard chart for the first time since 2008's Viva La Vida.
Coldplay will mark Friday's release with a two-day immersive event in London, New York, Tokyo and Berlin.
Titled "The Atmospheres," the event will feature a custom built installation taking fans inside the fictional solar system referenced on the album. Each of the album's 12 tracks corresponds to a planet in the system.
"Inside the custom-built installation, fans will be transported to The Spheres – the distant solar system that plays host to the band's latest album, where each of the twelve tracks is twinned with a different planet," a statement reads.
The installation will "recreate the alien worlds at the heart of the album" and allow fans to "create their own alien language messages, snap selfies in the augmented reality photobooth, and even help to power the experience through bespoke kinetic walkways."
"We're excited to partner with Amazon Music to bring Music of the Spheres to life," Coldplay said of the event. "The Atmospheres will take fans on a trip through The Spheres and into the heart of the album."
Music Of The Spheres. The new album 🪐 October 15th, 2021.
Available to pre-order: https://t.co/TglyCzQdOq pic.twitter.com/ydofZEUDmE

— Coldplay (@coldplay) July 20, 2021