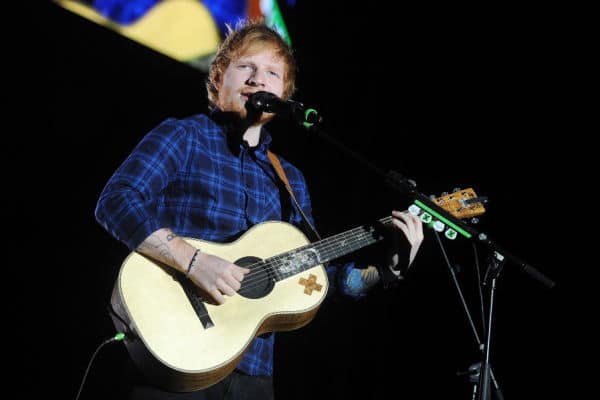 Nancy Sheeran the beloved grandmother of singer Ed Sheeran, has passed away in Wexford.
An obituary stated that Nancy was "beloved wife of the late Bill and loving mother of Jim, Bill, Peter, Chris, John, MaryAnne, Bridget and the late Sally and sister of the late Thomas, Jim, May and Peggy". 
It also added, "Deeply regretted by her loving sons, daughters, grandchildren, great grandchildren, sons-in-law, daughters-in-law, niece, nephews, relatives, friends and neighbours". 
"no one turned up at the wedding"
Nancy whose full name was Anne Mary Mulligan, was better known as Nancy Sheeran. She was the inspiration behind her grandson's 2017 hit 'Nancy Mulligan'. 
The song is based on Nancy's marriage to Ed's grandfather Bill Sheeran. Despite coming from different religious backgrounds, Nancy married Derry native Bill on the Wexford border.
'Nancy Mulligan' peaked at number 13 in the UK Charts.
"They got engaged and no one turned up at their wedding", singer Ed Sheeran had previously said of the song.
"He stole all the gold teeth in his dental surgery and melted them down into a wedding ring, and they wore borrowed clothes to get married, and just basically have this kind of Romeo and Juliet romance, which is like the most romantic thing. So I thought I'd write a song about it and make it a jig". 
The couple subsequently had eight children and 23 grandchildren.
After tying the knot and raising their children in London, Nancy and Bill Sheeran returned to their native Gorey, co Wexford in 1983.
Speaking in 2017, Nancy lauded her singer grandson Ed.
"I never think of him as famous, I have to say. He's exactly the same as he always was – if anything he visits and it's very rare because he's always working and when you think we was visiting from the age of 14, I mean you have to feel sorry for him, you know he's so tired but he loved it", she said.
Having worked as a nurse, Anne Mary was also remembered fondly for her kindness and genrosity across the local community.
Her funeral will take place tomorrow (May 3) at 11am in St Patricks's Church, Monaseed.