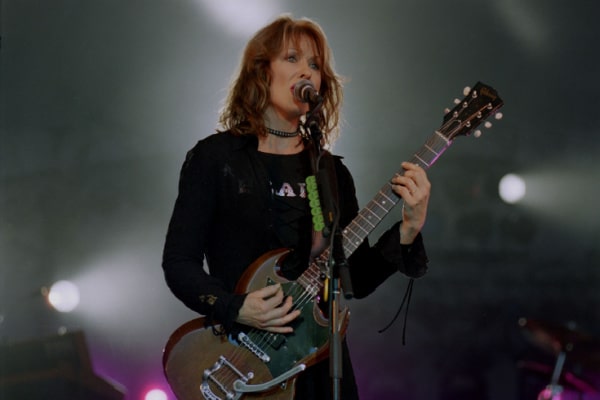 Nancy Wilson has released a brand new track in honour of the late Foo Fighters' drummer Taylor Hawkins.
Hawkins who passed away back in March, featured on the Heart Member's 'You And Me' album.
The track 'Amigo Amiga', was written by Wilson on the night that Hawkins died. Wilson had previously said of the drummer's death "Too soon, too soon, too soon to lose you".
You can check it out for yourselves below.
"such a painful loss"
Speaking in a recent interview, Nancy Wilson revealed that she struggled to express her grief over Hawkins' death.
"I spent quite a few sleepless nights trying to express it all", Nancy Wilson said. "He was a wonderful friend and we always had funny pet names for each other like 'Amigo' and 'Amiga' as well as 'Luv' and 'Dahling".
"It is such a painful loss", Wilson continued. "But it also feels like Taylor has galvanized and re-energized rock 'n' roll with so many of his musician friends and fans coming together," Wilson added. "It's a new renaissance Taylor and the Foo family have gifted us all".
All proceeds from the track will also go towards MusiCares, as will the profits from the upcoming second of two tribute concerts in honour of Taylor Hawkins, which takes place tonight.
Taking place in LA, the tribute show features a steller line up including Josh Homme, Chad Smith, Alanis Morrisette, Joan Jett, Black Sabbath's Geezer Butler, Justin Hawkins of the Darkness, Miley Cyrus, Mark Ronson.
The show will also be livestreamed via Paramount in the US and the MTV YouTube channel. More information on this here.
Earlier this month, the first tribute concert in honour of Taylor Hawkins took place at London's Wembley Stadium.
The show saw Taylor Hawkins' son Shane perform a live cover of Foos track 'My Hero'. Check that out and Nova's report here.